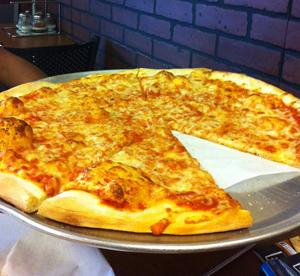 If you're looking for authentic New York style pizza and Italian Deli in Las Vegas, then Rocco's NY Pizzeria is the perfect place for you. The decor is beautiful and provided a very comfortable setting such as the brick walls and the family pictures throughout the pizzeria.
The menu contained countless options,that include pizza, appetizers, pasta dishes, strombolis, hot and cold sub sandwiches and desserts. I decided to try their original large cheese pizza ($9.99), which is a special Mon.-Wed. The non greasy-pizza was the perfect NY style; cheesy,  thin, crispy and it had the perfect " fold."  I also ordered a side of cheesy garlic bread ($3.99). Although the fresh garlic bread had a savory crispy outside, and a light and fluffy center, the cheese was tasteless and it was on the greasy side. We were told our food would come in about 15 minutes, but we actually waited about 20-25 minutes for our food to arrive at our table. When the server came to our table, he apologized for the long wait. The server was very kind, making sure we were happy and asking us if we needed anything else about every 10 minutes.
Aside from pizza, they offer delicious treats, such as Homemade Cannolis ($3.99) each and a variety of desserts.Also, Rocco's offers their addicting zeppoles with powdered sugar (Italian doughnuts) which are always out for samples. The downside of Rocco's is the fact that they keep both their Hoboken NJ cookies in the same case as the deli, these two items shouldn't be together, which can cause cross contamination between the meats and cookies.
Overall, my experience at Rocco's NY Pizzeria was excellent. Their authentic New York style pizza is outstanding and the garlic bread is made fresh. I was pleased by their amazing service and  will definitely be returning to try more of their other NY style pizzas.
Operating Hours:
Mon-Thu, Sun 11 am – 9 pm
Fri-Sat 11 am – 10 pm