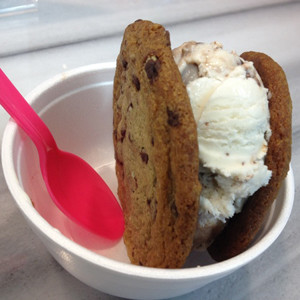 With the Las Vegas summer heat quickly approaching, newly-franchised ice cream parlor and bakery Sweet Addiction makes their mark by offering a self-indulgent selection of ice cream and cookies.
Sweet Addiction built their business on the idea of a delectable ice cream cookie sandwich. The setting of the venue captured a small, trending ice cream shop, not too spacious, but enough that it isn't as bothersome. One way they impressed me was with their use of technology, with using iPads as their registers and iPhones as their flavor viewers.
The ice cream they offer includes over 32 flavors, from the simple vanilla flavor, to other exclusive flavors like Circus Animal, a flavor that is inspired after the famous animal cracker cookies itself. With over 10 types of cookies to choose from, they offer over 200 different combinations that could be made to your liking.
Being new to the business, I ordered what is usually referred to as their signature dish: The Chocolate Malted Krunch in between two moist chocolate chip cookies. Although I don't define myself as a chocolate person, this specific combination changed me into a fan.
Eager to try more, we ordered other combinations, such as the Medieval Madness, which was surrounded by two white chocolate macadamia nut cookies. Similar to the flavor of a Three Musketeers bar, the combination of the two complemented each other. Other flavors that are considered "popular in Las Vegas" according to feedback given from customers on their instagram, are the Cotton Candy with Tuxedo Cookies, Strawberry Cheesecake with Strudel cookies, and Mint Chocolate Chip with brownie cookies.
From the sweets to the comfortable atmosphere, I believe that Sweet Addiction can prosper, and will satisfy the "sweet tooth" of those in Las Vegas.
Hours:
Mon. – Thurs. 11 a.m. – 10 p.m.
Fri. – Sat. 11 a.m. – 11 p.m.
Sun. 11 a.m. – 9 p.m.