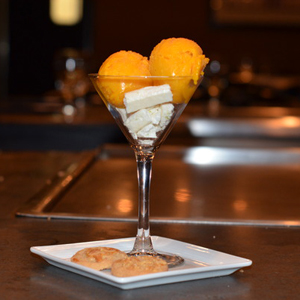 Shizen is a Japanese steakhouse and sushi bar located inside the Rampart Casino that has Teppanyaki style dining with a casual dress code. Teppanyaki cuisine is a type of meal that allows chefs to cook the food in front of you.
Shizen's menu has a wide variety of appetizers. To start off my dinner, I ordered the Avocado roll ($6.00), a dish currently not on the menu, but the amiable staff was friendly enough to prepare it for me. The roll was served in six round slices that come with a side of wasabi, pickled sliced ginger, and soy sauce. These items can be combined to create a dipping sauce for the roll, which was made of deliciously fresh ingredients, and it tasted even better with the soy sauce/wasabi mix.
I ordered a 6 oz Teppanyaki Filet Mignon ($38), which comes with a side of Teppanyaki vegetables, miso soup, house salad, and fried rice. The filet mignon was tender and full of flavor. When I added the sauce, there was a lovely subtle aftertaste in my mouth. It was seasoned to perfection.
Shizen offers a variety of sorbet/ice cream for dessert, that come with meringue sticks and two almond cookies. I decided to go with the mango sorbet ($5), which was a thick, tangy, smooth substance, and not at all icey.
The food was delicious but what made Shizen a memorable experience was the chef cooking the food in front of me. He did it so precisely and entertainingly that my meal was truly a dinner and a show. The delectable foods that Shizen offers, the friendly service and the overall atmosphere will make me a returning customer for a while.
Hours:
Monday 6:30 a.m. – 6:30 p.m.
Tues. 6:30 a.m. – 10:00 p.m.
Wed. 6:30 a.m. – 7:00 p.m.
Thurs. 6:00 a.m. – 6:30 p.m.
Fri. 6:30 a.m. – 3:30 p.m.
Sat. 7:00 a.m. – 6:30 p.m.
Sund. 7:30 a.m. – 7:30 p.m.