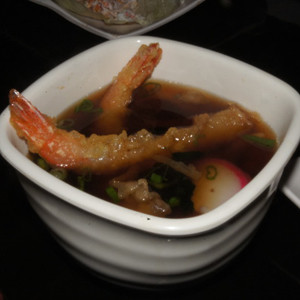 Sushi Kaya is an urban-Asian sushi restaurant that serves an all you can eat sushi menu with an ala carte menu.
My party of 10 arrived for the lunch "all you can eat" menu and was greeted by the benevolent waitresses to our side table. It was casual and the chefs were amiable, greeting customers with a loud " 안녕하세요! (Annyeonghaseyo)."  It was difficult to choose a dish as the combinations were elaborate and might have been overwhelming to the inexperienced eater; thankfully it came with a short description under each item and the hostesses were kind enough to suggest their favorite rolls.
I eyed the delectable list that contained Japanese Sushi and Korean side dishes. I started with appetizers for a light start such as the Warm Miso Soup that is created from a Japanese stock called 'dashi' and then smoothed by miso paste and garnished with seaweed, tofu and green onions. I ordered freshly mixed Ahi Poki which is originally a Japanese inspired dish comprised of cubed tuna in a mix of various ingredients laid on seaweed salad. The waitress advised to order a roll as well since it might take a long time to make and I chose the mango roll. It is a California roll with mango, tuna, salmon, yellowtail, avocado, and topped with fish roe then drizzled with deep burgundy eel sauce. The flavor radiated sweetness and was contrasted by the sour flavor of the mango instigating a colorful tango in my mouth.
There was a downside to the service as waiters paced back and forth often confused about the orders, and two times, they  accidently gave our food to another table. The servers were kind, but as young as they were, food was misplaced and took a long time to come out. I pitied my cousins who waited nearly half an hour for their desired entrees. While waiting I nibbled on my relative's orders and my favorite was the shrimp tempura, which was crunchy on the outside and creamy in the inside, perfectly corresponding to the sweet tempura sauce called Tentsuyu. Crispy shrimp heads and soft deep fried soft-shelled crab teased my taste buds by their unusual texture and filling flavor.
For a second round, the waitress proposed ordering the 'S Bomb Roll,' a spiral of tempura, cream cheese, salmon, avocado, eel and obscure trickles of eel sauce and their homemade "yum-yum" sauce. While stuffing my mouth and abusing my stomach, I nodded my head to the rhythmic beats of K-Pop that played (Korean Pop) and gazed at the beautiful Asian tapestries that draped on the walls while lanterns illuminated the dark room. To finish my feast, a fragrant scoop of Cherry Amaretto ice cream sufficed.
Sushi Kaya is an eatery that embellishes its interior with old Asian beauty and contemporary ambiance and has a lunch AYCE that is $19.99 and the dinner AYCE is $24.99. The food was colorful, delicious, and affordable. Despite the slow service, I will come back for more tantalizing dishes and the comfort of Kaya's oriental design.
Hours:
Open daily from 11:30 a.m. – 3:00 a.m.