There are many sushi restaurants scattered around Las Vegas, and I stumbled upon Sushi Way because of recommendations given to me by close friends. Not only did this restaurant have friendly employees, but it also had delicious food. The options ranged from a la carte rolls, all you can eat for lunch ($21.96), all you can eat for dinner ($26.95) and dessert items with the main focus on sushi rolls.
One thing that stood out when I walked in was how the restaurant's decor complimented the atmosphere. The walls were very dark and the music that played from the speakers was current popular songs on the radio. Once you walk in there is a waiting area, but during the time I was there it was not used. The only light comes from the warm-toned chandeliers and the small glass door entrance, making for a cozy environment.
Each roll costs about ($11.00), so if you are planning on eating more than three rolls or ordering sides, then I would suggest purchasing the "all you can eat" option. If the items on the menu do not appeal to you, there is an opportunity to customize it.
The first item off of the menu I ordered was a side of bacon wrapped scallops. The crispy sweet glazed bacon wrapped the salty scallops, which made for an appetizer that was not too overpowered by one flavor. There was also the perfect balance of crunchy and smooth with the bacon and smooth scallop. There is no limit on these items so if the portion was not enough, then more orders can be placed.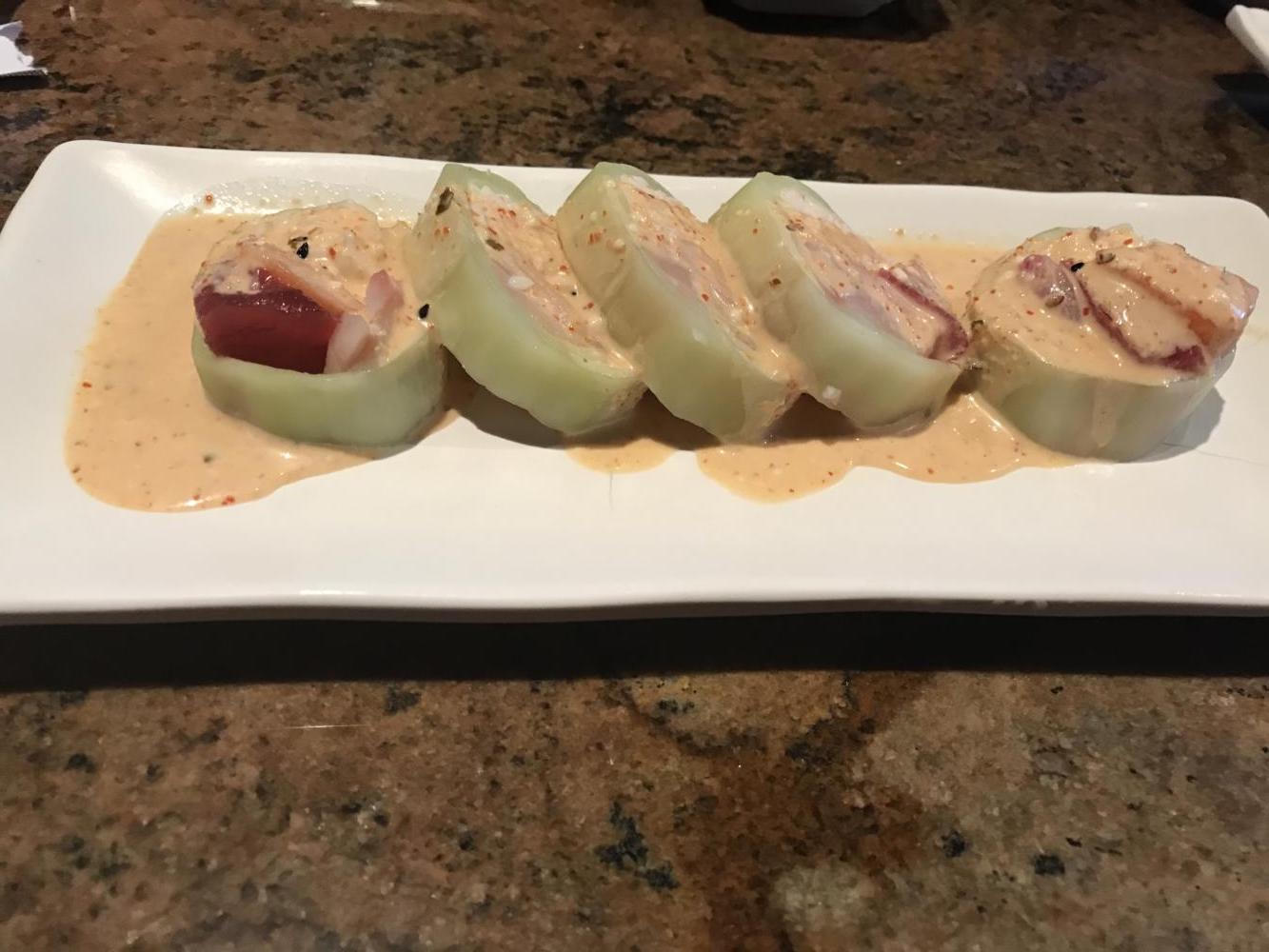 The first roll given to me was the 'Rock & Rock' roll. Instead of rice, the fish was wrapped in cucumber and filled with salmon, yellowtail, white fish and crab topped with their signature sauce. The cucumber added a light fresh note that peaked through the savory flavors of the fish. Their signature sauce was also a nice touch since it had a small amount of spice and a tangy savory base. This roll is great for those who don't mind a bit of heat and for those who are not fond of seaweed or filling rice.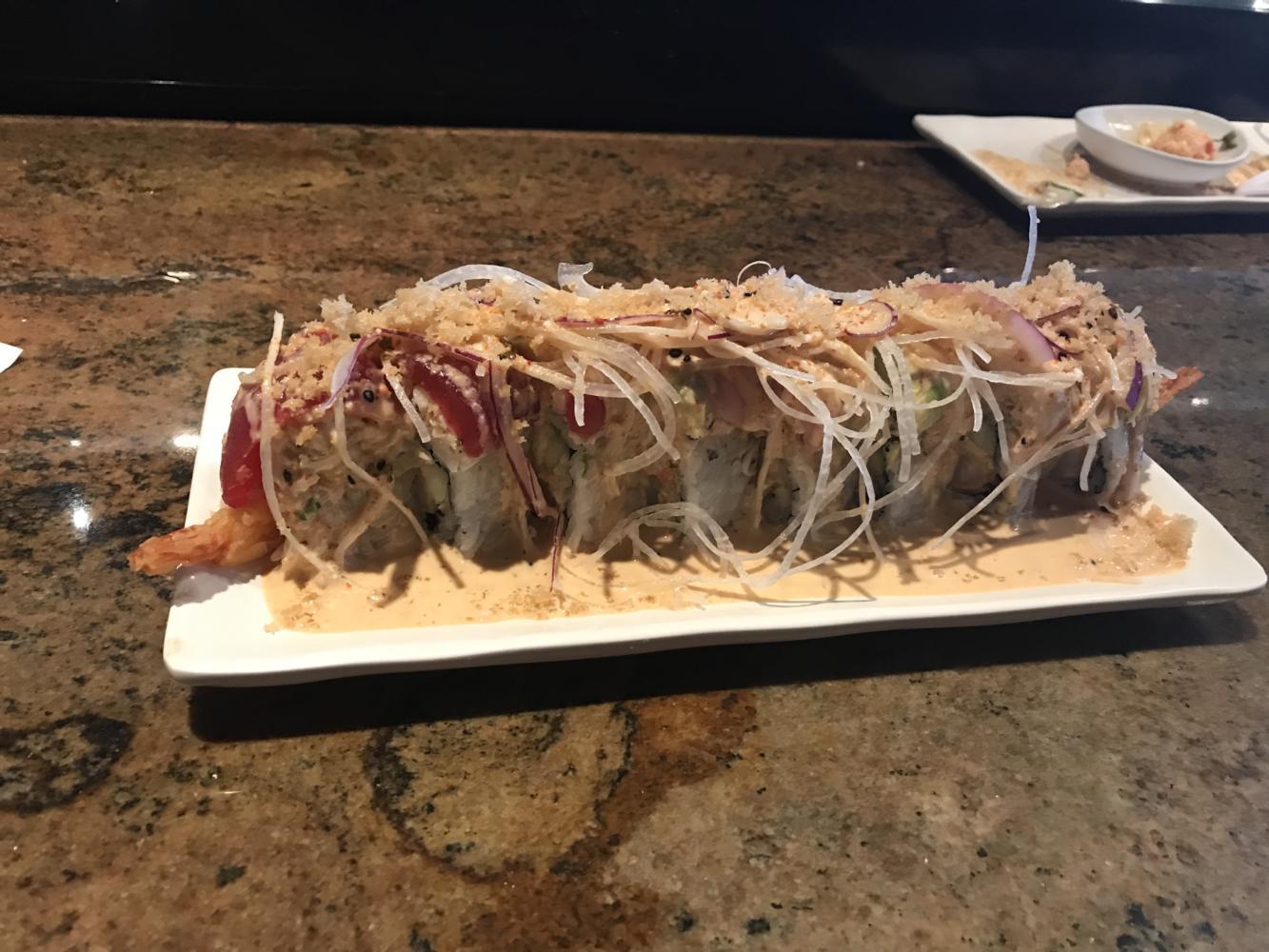 The last roll I ordered was a special roll made by the chef. This was like the traditional rolls; it contained rice and seaweed. On the inside, it had cucumber, tuna and shrimp tempura with a sauce that was not as sweet as I thought, instead it was rather spicy. On top, there were onions and a thinly sliced piece of fish.
Fried rolls are not usually my favorite but this had a ton of spices. The spices were a blend of different flavors along with chili pepper that could be tasted both inside and outside of the roll. The signature sauce was drizzled on top to tie everything together.
The crunchy tempura contradicted the smooth fish and salty toppings. I felt like on this roll there was too much going on. It looked nice, but I am a fan of simple rolls so that the fish can be the main ingredient instead of the toppings becoming too overpowering.
If you are a fan of fresh fish and want to stray away from the traditional sushi rolls, Sushi Way is a great way to do so. Not only will you feel welcomed, you will also be given delicious food and a positive experience.
[poller_master poll_id="354″ extra_class=""]