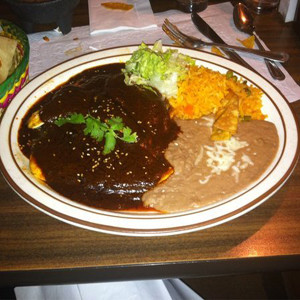 Lindo Michoacan is a traditional Mexican restaurant with friendly service, a musical atmosphere, and some of the best Mexican food in the Las Vegas Valley. This is a restaurant that doesn't require you to spend a lot to receive a lot.
With 17 mouthwatering appetizers ranging from Shrimp Cocktail ($6.25) to Ceviche de Camaron ($18), these diverse selections will suit everyone. I ordered the Mole Poblano ($ 14.95), which is a dish that is prepared with different dried chilies and spices. It's between hot and mild, with a bit of a chocolate taste for your sweet tooth. I wasn't sure about this restaurant in the beginning, their classical dish, Langosta con Novillo ($38.95), offered a kick of flavor that immediately heightened the appeal of this restaurant. I also tried their Caldo de Pollo ($9.95), which is a delicious soup that comes with tortillas and the warm chicken and authentic orange rice gives it a distinguishing appeal.
The service is amazing, the atmosphere is tremendous, and the portions are sized well. The best part is that the food is prepared the traditional Mexican way with the same ingredients and the same presentation you would find in Mexico. If you are ever craving a delicious and quick original meal with music for entertainment, this is the place for you.
Hours:
Mon. – Thurs. 10:30 a.m. – 11:00 p.m.
Fri. 10:30 a.m. – 12:00 a.m.
Sat. 9:00 a.m. – 12:00 a.m.
Sun. 9:00 a.m. – 11:00 p.m.