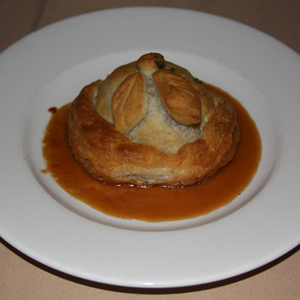 The Carmel Room is a steakhouse with a French inspired menu in the Rampart Casino. When I first heard about this restaurant I thought of unique foods and elegance and that's exactly what they delivered.
To start off the meal, the delectable Prosciutto Melon ($10.00), along with the marinated asparagus spears, has a unique taste and texture to it. Although the salty prosciutto was thinly sliced, it was chewy and a perfect complement to the melon. Since the melon was full of juicy sweetness, it enhanced the overall flavor of the ham.
For the main course, I ordered the Beef Wellington ($34.00). The presentation alone was beautiful. The filet mignon was encased in a light, flaky pastry that was beautifully designed. At the bottom of the bowl, the perigourdine sauce, a French sauce made from goose or duck liver with a hint of truffles, was sweet, yet not overpowering. Because the pastry acted like an incubator, the meat, when I finally tried it, was piping hot. The tender and juicy filet mignon was the perfect dish for me. As for the sides, I ordered the Mashed Potatoes ($7.00) and Asparagus Hollandaise ($7.00), which were fairly traditional as expected, but still delicious.
To end the night, I ordered the Grand Marnier Chocolate Soufflé ($10.00) for dessert. I highly recommend ordering this particular dessert due to the fact that it takes at least 30 minutes to prepare. This dessert comes with a chocolate and grand marnier sauce, whipped cream, and vanilla sauce on the side. The soufflé was hot, thick, and chocolatey, but surprisingly, it was not that sweet. The dessert tasted extraordinary with the whipped cream because it mixed the warm and cold temperatures. As for the chocolate grand marnier sauce, it added to the already chocolate flavor.
What made my night even more memorable was the service and atmosphere. The place is designed as an open area, but there are some private areas available for seating. In the private dining areas, each table is separated by curtains and with the lighting of the place, it was very elegant. The waiters were attentive, which made the night run more smoothly. Along with the possibility of making reservations online or by phone, The Carmel Room requires customers to be dressed in shirts and slacks.
Hours:
Sun. – Thurs. 5 p.m. – 9 p.m.
Fri. – Sat. 5 p.m. – 10 p.m.