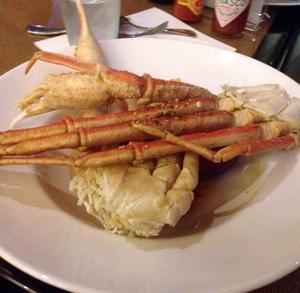 Since Las Vegas isn't close to the coastline, there aren't many places to go for freshly caught seafood. Giving us a more than exceptional experience, Tides Oyster Bar at the Green Valley Ranch Casino offers not only some of the best fresh seafood in town, but with a New Orleans style twist.
Although the Tides Oyster Bar is located in a casino, the ambiance of the room is still classy and refreshing regardless of all of the background slot machine noises. Their menu consists of a variety of seafood dishes, offering fresh fish, pasta, soups, and other undersea delicacies.
When first ordering, we started off with their New Orleans inspired dish called the Pan Roast ($14 half / $20 full). Served with a gumbo-like sauce, the pan roast truly showed the New Orleans style with its variety of spices and flavors all combined into one. Aside from ordering the Pan Roast, we also ordered oysters on the half shell ($11 half/ $16 dozen). This platter included some of the best oysters I've ever tasted in Las Vegas, served with a special tartar sauce.
Besides their regular menu, nothing makes this "Tides experience" special without ordering their "All You Can Eat" crab legs dinner special. For a special price of $29.95, the AYCE experience was accompanied by endless bread, soup / salad, corn-on-the-cob, potatoes, and their signature banana bread special dessert. With the snow crab legs being served with their special garlic-butter sauce, the AYCE showcased the authenticity and freshness of seafood that Tides could offer.
Although Tides offers a pricey selection of seafood, their assurance on quality and freshness makes up for it. Tides Oyster Bar is a splendid place for satisfying the desire of fresh seafood, also being the perfect place to wine-and-dine with family and friends.