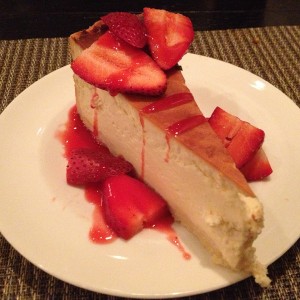 Pasta Cucina is an authentic Italian restaurant located inside the Palace Station casino.
To start off my meal, I chose the Antipasti ($5.99) which consists of three fried mozzarella triangles, three fried zucchini sticks, and two bruschettas. By itself, the mozzarella triangles were crispy and crunchy on the outside, yet the cheese inside was warm, gooey, and stringy, just the way it should be. Although the zucchini was not as crunchy as the mozzarella triangles, the outer covering of it was splendid. The flavor and seasoning of the bread crumbs on the outside blended well with the flavors of the zucchini and the warm alfredo sauce was a delicious addition. The bruschetta was the last part of the appetizer was light, but with a strong oily and fresh savor accompanied by a hint of sweetness, which gave it a true Italian feel.
Throughout the meal, I was sipping down freshly made Italian sodas ($3). My first was a watermelon Italian soda which had a subtle taste, but was also very refreshing. I could not stop at just one though. My second soda was Tiramisu Italian. When I took my first sip, a wave of chocolatey taste entered my mouth. It almost felt like I was drinking tiramisu cake.
When it was time to order my entree, I decided to go with an Italian classic: the chicken parmesan ($9.99) that includes spaghetti and a side salad. Encased in breading, the chicken was so moist that it left me in amazement. This dish not only tasted excellent, but it also improved upon the mood that the restaurant already provided.
For dessert, I ordered the New York style cheesecake ($4.99) and as I suspected, it was phenomenal. One slice appeared before me beautifully decorated with strawberry glaze. The cheesecake was thick, but sweet due to all of the fresh strawberries. It was a perfect way to end my meal.
Other than the food, the factors that contributed to my perfect night was the environment and service of the whole restaurant. The atmosphere of the restaurant was so elegant and open that it honestly felt like I wasn't even in a casino. Also, the service was very friendly, informative and helpful. Overall, my Pasta Cucina experience was flawless.
Hours:
Sun. – Thurs. 5 p.m. – 9 p.m.
Fri. – Sat. 5 p.m. – 10 p.m.