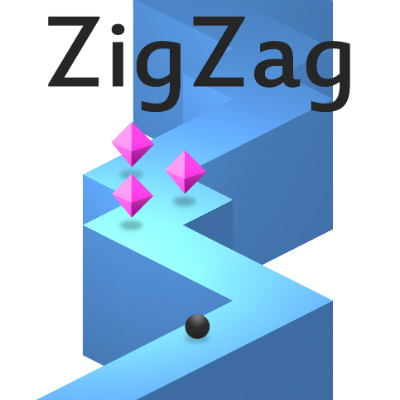 Released by the creators of "2048," "ZigZag" is another app that does not entertain with storyline development or complex gameplay, but sizes down the fun factor into a few simple taps. Upon opening the app, you are thrust into the playing field: a floating zig-zag pathway. The challenge is to accumulate as many points as possible, all while maneuvering a black ball through a series of 90-degree turns. The ball moves in one fixed direction, and you must tap the screen at the right time to change the direction before it rolls off the edge of the track.
While tapping away, radiant magenta gems lie along your path, and each gem is worth two points. Because the player is only given points whenever you tap on the screen and change the direction of your ball, I was reliant on these gems to elevate my score.
In 50-point increments, the color of the zig-zag track transitions into other colors—most notoriously, the pearly white. It dramatically increases the difficulty level as it is challenging to point out the boundaries of the track against the white background. I usually appreciate a challenge, but the sudden shift of colors was distracting and even painful for my eyes. Although merely an attempt to up the ante, it ruined my experience, and the frequent lag did nothing to remedy that.
The pestering ads clogged the playing field and did not take into consideration that I was trying to enjoy the game. There have been various accounts in which I opened "ZigZag" and began to play—only to be interrupted by a full screen advertisement for a sister app like "Circle" or "Stick Hero," which cut my run short as I could not see the ball. Fortunately, this issue comes with an easy fix: Airplane Mode. But I, for one, am not willing to shut out incoming connections for an app that has more weaknesses than strengths.
Nonetheless, the concept of the app is innovative, as are most of Ketchapp's products ("2048," "Stick Hero"). However, the downfalls were not easy to glance over, and dampened the entertainment factor. Although the ads, color changes and lag make for an unpleasant experience, the app is great for time-killing—if you are willing to look past the flaws in functionality.