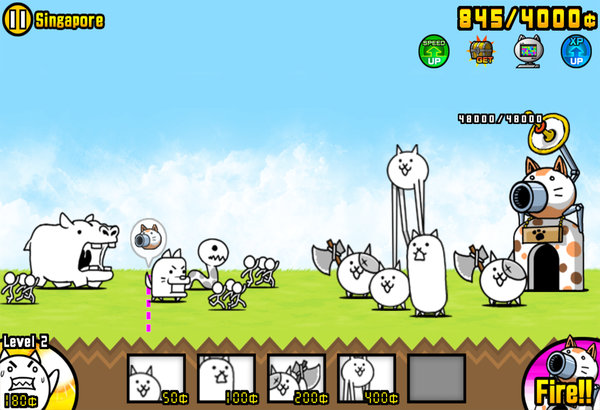 For those who prefer simpler games that still manage to provide entertainment and challenges, "The Battle Cats" is likely to meet all of your expectations.
The game's premise is adorable yet basic; you must control an army of cats to take over the world and defeat the opposing dog army. The game has an uncomplicated objective, but can become addictive and challenging as the levels progress.
In the beginning levels, enemies are easily defeated; all it takes is a tap on a cat on the bottom of the screen, which will launch the unsuspecting kitty into battle. An energy bar on the top right of the screen shows you how much energy you have, and the cats you use to attack require different amounts of energy to do so; the cats that do less damage require less energy, and vice versa. While your energy is building up, adorable doggy enemies will advance and attempt to destroy your army and base.
While this might seem to take an enormous amount of effort, all that actually takes place is repetitive tapping and simple strategizing. The first decision to be made is when to deploy your cats, and the second is to choose which cat you will send out to battle. As you gain XP points, you can upgrade your cats' stats, such as their power, health and charge time. Some of the different cats you are able to use are ninja cats, cow cats and bird cats, all of which have different advantages and uses.
The graphics of the game are rudimentary and simple, though the cuteness of the tiny cat and dog drawings are still appealing. Plain backgrounds of grassy fields and blue skies dominate the game, along with the bases of the dogs changing to adapt to the country your feline army is conquering. Sound effects of smacking and hitting in a comic way are heard every time contact between the two opposing species collide, which often overpower the light and cheery music in the background.
While the game is almost too simple to enjoy, the repetitiveness of clicking and watching the cats, dogs and various other animals that also come into play becomes addicting; earning this game a B-. "The Battle Cats" is free for both iOS and Android, and may be worth a look if you enjoy games that don't require much skill or thought.