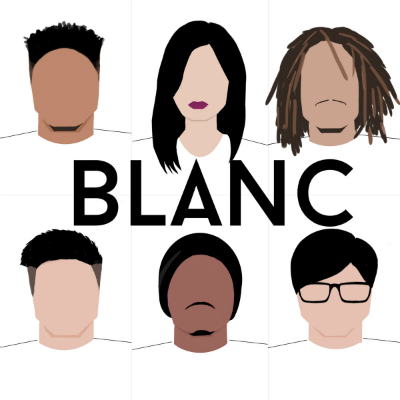 The Vegas valley is home to many artists striving to break ground in a city filled with all sorts of entertainment. From the Strip to suburbia, aspiring individuals unholster their talent on mediums that range from canvas to CDs. Painters and sculptors occupy the asphalt streets of First Friday, while bands and musicians plant gigs around town. Going loco for local cannot be avoided when surrounded by these thriving innovators, and The Noir Movement is no exception with their second record "BLANC," an EP that pushes the envelope and shows the experimental possibilities of neo-soul.
With repertoire stemming from Las Vegas Academy of the Arts, The Noir Movement started as a DJ group that eased into jazz as they recruited more members. While the band was in search of a more unique sound, rapper Kiari Cook and guitarist Eric Vattima joined the group, rounding off the official Noir Movement of vocalist Maejoy Dotdot, bassist Jeremy Elises, trumpet player Sean Hunter, percussionist Laron Johnson and pianist Angelo Monroy. Their first EP, "The Noir EP" contained covers of songs such as "Crazy" and "No Church in the Wild" to show their audience what the "Noir Treatment" can do for popular music.
Although there are only four songs on the EP, each one contributes to the band's own identity. From "Butterflies" to "Untitled 1," their music steers away from the typical coffee shop jazz and into a style of jazz that is more contemporary. Hunter's classy trumpet and Monroy's expressive piano are repurposed to build a sound that ties in many genres, such as hip hop, R&B and soul. Jazz is a style difficult to grasp with its complex chord progressions and avant-garde styling, so the fact that it was professionally arranged and executed by young musicians is undeniably impressive.
Dotdot's sultry voice accents the genres well with her ability to dominate every single note with powerful, yet delicate handling, especially in the ballad-based "Butterflies" and low-keyed "Ease My Pain." Squared out raps in jazz are uncommon, but in "Mic Check," Cook pounds in bars that resonate with Elises' steady bass and Johnson's rhythmic percussion. One of my favorite parts of the song is the chorus, where Cook sings, "Mic check, 1, 2, 1, 2/Hit my phone before you come through/Baby girl if it's cool with you/I can spark up something beautiful/You're so beautiful," as Dotdot underlines his vocals with her own. The song's delightful contrast between high and low, and smooth and rugged makes for a chorus that cannot do without a couple replays.
The Noir Movement has left me with an EP that has me begging for a full-length album. Their contemporary take on the traditional genre of jazz is enough to garner more than just a second listen, but their success at incorporating rap is remarkable. From the warmth of the vocals to the artistry of the instrumentals, Noir's "BLANC" is an EP that reaches the standards of professional music.
The Noir Movement's music is able for streaming on Bandcamp, SoundCloud and Spotify, and information on opportunities to see them live is available on their website and social media pages.