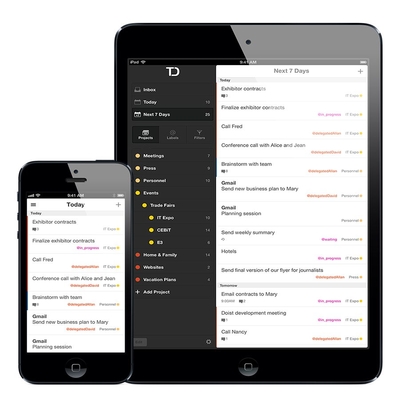 When the simple "Reminders" app on the iPhone does not suffice when organizing your after school schedule, "Todoist" serves as an alternative—one that is expansive, ergonomic and easily accessible. Crafted by the productivity software team at Doist, the app delivers a program that is similar to a student planner or agenda, and perhaps, even better.
Available on 13 different platforms, "Todoist" erases the line that separates Android and iPhone users, and even those who own neither, as it is also available for Windows, Mac OS, online and as an extension for Google Chrome—only to name a few.
Immediately upon entering the app, you are greeted by a grayscale background with clean lines and soothing colors. This modern, minimalist interface does little to threaten your battery life, a major upside for students (like myself) who frequently use their mobile device throughout the day.
The main purpose of "Todoist" is to serve as one program that holds all of your tasks that need to be completed. The app allows you to manage each item by setting due dates and a priority level to aid in completing tasks in a timely manner.
Grouping your tasks together by Projects (in other words, categories), the app pushes forward with its promise of organization. The pre-installed categories include 'Shopping' and 'Movies to watch,' showing that the app can also be used outside of school, as well. Each Project is color-coded, allowing for distinction, and new ones can be created according to your lifestyle. This is especially useful should you decide to create separate lists for PBLs, since this feature helps isolate them from general school work and allows you to pinpoint every step of the project.
What sets "Todoist" apart from those of its kind is the collaborative feature. The app gives the ability to share projects with other "Todoist" users, as well as assign certain tasks. Although this feature is only available on the desktop (Mac OS, Windows or online) version, once a project is shared, it can be accessed on other platforms, including mobile.
However, the app does have its downsides. When managing my tasks, I noticed that there was an option to set reminders, but learned that this feature was only available for Premium members. Labels, which operate as tags, allows you to further categorize your tasks, but is another feature that is only available when you pay $28.99 for a one-year membership.
"Todoist" is an app that proves extremely useful when used for school. Available for free on a variety of platforms, its versatility and efficiency makes it an essential for organizing your life inside school and outside of school.