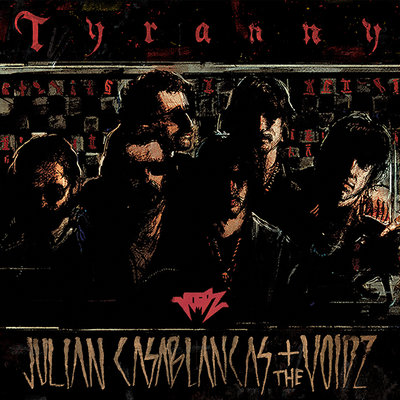 Tyranny is the debut studio album of solo project Julian Casablancas + The Voidz, emanating echoing and airy psychedelic tunes of isolation and avoidance of other people and the future. While the album overall is energetic and upbeat, the instrumentals are gritty and far too pixelated for a sense of actual enjoyment, drowning out Casablancas' trademark tenor vocals.
Forming in 2013, frontman Julian Casablancas went on hiatus with his band, The Strokes, and partook in a solo project. With Jeramy Gritter and Amir Yhagmai on guitar, Bercovici serving as the bassist, Carapetis as the drummer and Kite as the keyboardist, the band has been signed with Casablancas' record label, Cult, since their formation.
Track after track, the compilation revolves around themes of protesting and rebellion, causing a defiance of "tyranny," hence the title of the album itself. Scattered and unruly, Tyranny covers the same slumping theme within each song, for instance, single track "Human Sadness" revolves around the idea of losing oneself and lacking the motivation to move on. Lyrics such as "All is lost/I'll find my way/So I say to be is not to be" make it a clear challenge to remain in a joyful mood. However, aside from the lyrics, the overuse of the synthesizer to make that signature 90s video game sound also contributed to the brashness and irritation that was felt during the listening of the album.
In the track "Where No Eagles Fly," the music remains dead until a deep and booming bass line slowly sneaks in, resurrecting the other instruments and leading into a grand crescendo. Unfortunately, its grace was quickly dropped into an abrupt screech of grunge, thanks to Casablancas' vocals. The lead singer croons about the desperate need of isolation, using animals to express his desire to be in a place where there is nothing at all, not even flying creatures to keep him company. With lyrics like "Meat/Predators eat meat," pure and utter secondhand embarrassment radiated throughout my bones, and it was so strong that I had to pause my music player and regain my stability. Considering that the album was composed by such a witty and prominent indie rock artist, I expected more than words that would usually be uttered by a caveman.
As a mixture of Arctic Monkeys, Franz Ferdinand and The Black Keys, I had high expectations for Casablancas and his band, considering that most of his previous work had been alternative and right for any mood. To my dismay, Tyranny is a fuzzy and boorish selection that had as much life and character as rust on an old bicycle. Each track is so vulgar and atonal that it might have simply been just one everlasting, dragging song.