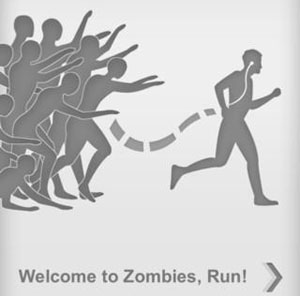 Recently updated to include season two of its story, Zombies, Run! combines the fun of a zombie/survival horror game and fitness in order to motivate people to exercise. The objective of the game is to rebuild your base and collect supplies for the survivors of a zombie apocalypse while avoiding hordes of zombies. "Zombies, Run!" sets itself apart from other zombie and survival horror games by actually immersing the player within the game. Also, to be honest, I would run faster and for longer periods of time knowing that zombies were behind me, ready to take a bite.
The way this game works is similar to other running apps that keep track of the user's pace and may have a coaching feature in which there will be a voice over that attempts to motivate you, but "Zombies, Run!" does not. I'm not sure about other people but I think zombies chases provide more than enough motivation.
Upon an awkward start, I was immediately thrust into the story and I was extremely confused. It may have been my own mistake, but regardless I felt a little weird in the beginning, but quickly got the hang of running in order to collect items and earn my keep into the Abel Township. I became Runner 5, the replacement for the previous runner that had died on their last mission. Although the first mission is not fast-paced and the zombie encounters are low, it is a great way to ease into the more exciting missions that had me sprinting across the pavement. On another note, I absolutely hate to run and I can run at least 9 minutes straight with the motivation of not failing P.E. With Zombies, Run, I found myself jogging at a steady pace for 30 minutes. Overall, I'd highly recommend this game despite the steep price.
Pros:
Compelling story

Plenty of intense missions with random zombie chases

Clear and natural voice acting
Cons:
Actual MP3 files must be used, so radio stations can't be used.

GPS doesn't lock on for some phones.

Fairly expensive, costing $8. (As of the update, it's on sale.)