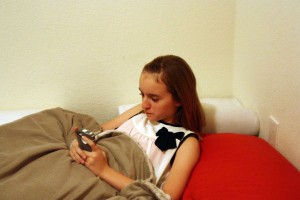 Adults constantly complain about teenagers and the little amount of sleep they attain. They say they understand what a teenager goes through, and we've all heard the "I was your age once" lecture at one point in our lives.
As years have passed, new inventions have become distractions to our daily routines: television, cell phones and, the Internet specifically.  I can be on the Internet at any point of the day, due to the fact that modern day cell phones have browsers programmed into them. So even when I'm laying in bed, I can still be on Twitter or Facebook. Since I'm constantly on the computer, I usually sleep for less than 5 or 6 hours each weeknight. During the weekends, the amount varies due to my task list or when my parents wake me up.
According to the National Sleep Association, teens should sleep for nine hours a night. Typically, for me, its four to six hours. During my freshman year, my bus came at 5:00 a.m. each morning and the student pickup was two miles from my house, uphill. In order for me to be ready by 4:45 a.m., I would have to wake up at 4:10. This year, my bus schedule changed and I must be at the bus stop at 5:45. Due to this extra hour of sleep, I have noticed that I have become happier than I was last year.
But, on Friday nights, I'm either babysitting or sitting at home in my sweats. Chances are if you try to reach me after 9:00 or 10:00 p.m., I won't respond. I doze off early on Fridays because of the little amount of sleep I acquire during the week. People say I'm weird for going to bed so early, but I usually listen to when my body says it is time to sleep.
Let's be honest, teens should sleep more than they usually do. It will help their bodies reenergize and be prepared for each day. I am reminded of this on a daily basis. However, teens stay up as late as they can, only to sleep until noon. They stay up late during the week, but they can sleep on the bus. On the weekends, they don't have to wake up early, so they stay up late. Why? Because they can.
Instead of going to bed at midnight each night, set yourself up on a regular sleeping pattern. Don't stay up too late during the week and don't sleep in as much. If you wake up at 4:30 a.m. each weekday, then sleep until 8:30 or 9:00 a.m. on the weekends. You won't hate Mondays as much if you do. Your attitude will improve as you get your body on track. As a bonus, you'll be sick less. Your body need sleep to heal itself Guess I should get on a regular sleeping schedule then.
So settle down, grab a book and prepare for bed. But whatever you do, DON'T wake me up.