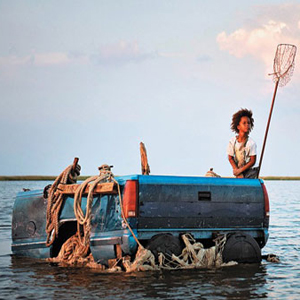 Running like an animal, screaming at the tops of your lungs, and enjoying life is the freedom characters of Beasts of the Southern Wild, a Sundance debuted film, experience. The film was released nationwide, but sadly, it has not been as advertised compared to industry films. This is a shame, considering it is an incredible fantasy story viewed through the eyes of a kid, where wonders of the world transform to a keen perception of every creature's importance.
The film is directed by Benh Zeitlin, who casted a spunky six-year old actress named Quvenzhane Wallis, to play the role of Hushpuppy, who lives with her father (Dwight Henry) in the Bathtub, a bayou-like island near the coast of Louisiana. Although small, she tries to understand the world around her–the dangers, the loss, and the festivities her community celebrate. Amidst her father's illness and melting ice caps, prehistoric beasts are set free, known as the 'aurochs.' Due to her mantra, "When you're small, you gotta fix what you can," she aims to solve her problems.
The character of Hushpuppy handles the ferocity and connection to nature with maturity beyond her years. Her calm quotes of wisdom act as poetic gestures to understand that each person is a piece of a bigger picture. The film is captured by a shaky low-quality camera to compliment the rogue atmosphere and instability of Hushpuppy, like a documentary that contrasts the vibrant, but paradoxical characters.
One learns from the film that every living creature has a motif in life that is meant to fit perfectly, although its not obvious. Watching Hushpuppy's odyssey, the audience may realize to not run away from challenges, but to face them and bend rather than break. Beasts of the Southern Wild is a symphony of principles to live by and as a must watch, the audience can walk out with a clearer view of their choices.