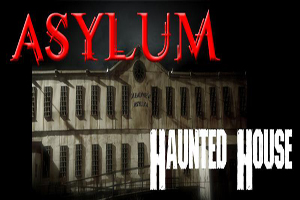 "Chaos on Craig," also known as Las Vegas Haunt's Hotel Fear and The Asylum, have made their way to the top of my favorite haunt list. Both haunts are very different, but frightening in their own way. Not only are these haunts my personal favorites, Hotel Fear and The Asylum have been recognized by Hauntworld's top 13 haunted attractions, a well-known organization amongst the world of haunted houses.
The idea of a real asylum is scarier than what the The Asylum delivers. Throughout the experience, you hear people screaming for help– scary, but not on my level. You meet the crazy doctors and are escorted through random rooms that have been reproduced from rooms that could be found in a real asylum. In some of these sections of the house, the actors just stood there and acted as if we were not there. I left these areas thinking, "Was that supposed to be scary?"  Similar to other haunted houses, it ends with a large man chasing you out with a chainsaw, which is a great way to end it. While there are many things that could have improved, I was still amused by the actors and the way they interact with the customers.
Alternatively, Hotel Fear has made some improvements for the better; the actors play a scarier role and the new rooms are the best in the house this year. Hotel Fear had me clenching my fists together throughout the whole haunt; actors were springing from every corner, and they really embodied their character.
Every themed section was filled with awesome actors that had all of us screaming as soon as we walked in.  One of my favorite parts is the "Fog Room." I don't want to ruin it for you, but I can say that I accidentally physically assaulted one of the actors during my attempt to escape the house.  Luckily, he didn't mind and continued with his role.  Hands down this was my favorite room.
While the Asylum should have been the better of the two haunts, my favorite was Hotel Fear; the actors were the scariest and the rooms were very original. The Asylum will always be one of my top favorites, but this last trip wasn't as I hoped.
Located on 675 W. Craig Rd.  Open from 6:30 p.m-midnight on select nights through Oct. 31. $12 for one haunt, $18 for both haunts. VIP tickets are available, $17 for one haunt plus VIP line and $25 VIP-combo for both haunt plus VIP, both allowing entry to the fast line. This event is all-ages. (702) 636-9515; lasvegashaunts.com