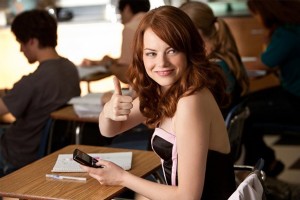 The "A" in the case of Screen Gem's Easy A stands for amusing. The plot is simple: a girl makes up a lie to get others to like her, but the plan backfires. The movie finds its true originality through the comical and sarcastic supporting characters who help the story line achieve its fullest potential.
Emma Stone's witty character, Olive Penderghast, pretends to have an affair with her gay friend, Brandon, played by Dan Byrd, during a friend's party.
The two try to enhance their reputation, by pretending to lose their virginity to each other, as it was inferred through the media as the "cool" thing to do. Her life then begins to parallel the life of Hester Prynne in Nathaniel Hawthorne's Scarlet Letter. She decides to embrace the role of a teenage sinner by changing her wardrobe into lingerie tops with a bright scarlet letter "A" embroidered upon her chest. Upon her journey to discover herself, she loses both her dignity and her friends.
The plot can be described as a comical satire of a teenage girl's last year of high school. This can be observed in other movies such as Mean Girls, but the blatant, over-the-top humor in Easy A will keep you laughing and it is enjoyable for young-adults that don't mind a predictable plot.
This movie, narrated through Olive's webcast, is comical and will brighten almost anyone's face with a smile. Whether you are in the mood for some good comedy, a typical high-school comedy plot, or a loose comparison of classic American Literature, this movie is definitely worth the watch.