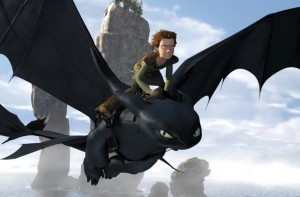 "How to Train Your Dragon" by DreamWorks Pictures, follows the story of Hiccup, a rebellious Viking, who captures a rare Night Fury dragon, named Toothless. Hiccup creates a tail for him, as he is missing one, and they soon become friends.
This movie was full of action and adventure that keeps you holding on until the end. Jay Baruchel, voice of Hiccup, did an outstanding job making this character come to life.  America Ferrera, voice of Astrid, constructed a diverse character that seems innocent, yet also creates a tough and fierce female love interest. Gerard Butler, voice of Stoick, Hiccups dad, does a wonderful job at creating an authentic father-figure.
"How to Train Your Dragon" is a movie that I would definitely see again and recommend seeing if you're not in the mood for an action/horror film.   The actors that play the characters take the storyline and not only make it into a children's story that kids can follow, but also makes it enjoyable for adults.
I think I would like to have seen this movie in 3D, but it cost $13 just for one person.  Seeing the movie in 2D was less expensive price, with a savings of $5.25 per ticket.  Dragons breathing fire and flying toward the screen would have been cooler in 3D, but $13?