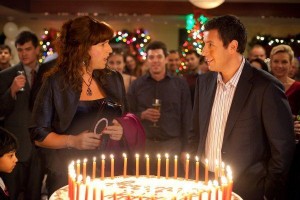 As the captivating trailers frequently played on my television, I remember thinking "Jack and Jill" was a MUST-SEE. The funny scenes played during the short commercial made this movie look captivating, and promised a chance to laugh throughout the whole film. So here I was, popcorn in hand, anxious for it to start, and boy was I disappointed.
Jack Sadelstein (Adam Sandler) dreads the upcoming visit of his twin sister Jill (Adam Sandler). Jack's love toward Jill is not obvious, which is the major conflict between them. As his wife suggests, Jill stays for the Christmas holiday, slowly driving Jack insane, and what should have been hilarity was pure boring.
Different characters such as Al Pacino, Regis Philbin, Bruce Jenner, and Shaquille O'Neal, playing as themselves, provided a funny, and sarcastic kick, which broke up the stupidity of the jokes and pranks incorporated in most of the scenes.
Despite the fact that Adam Sandler is not known for sophisticated comedy, the biggest disappointment of this whole film was the jokes. Knowing Sandler's immature and natural humor from original movies such as "Happy Gilmore", "Billy Madison", and "Little Nicki," the redundant humor in this movie was far from natural, and made the movie dull.
In the end, the actors tried what seemed like their very hardest to prove to us that no matter how much Jill's character annoyed and disgusted us, we should love her anyways. The excessive dry humor and poor jokes made this movie "not full movie ticket price worthy." If you have not yet spent your time and money on it already, I would suggest waiting for it to come out on DVD.