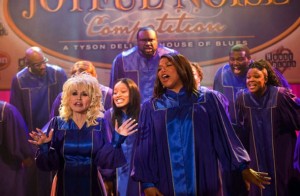 Maybe you agree with millions of others that High School Musical or Grease is just "not your thing." There are movie-goers who love a catchy song thrown in between scenes and there are those who would rather run a marathon than watch a musical. Joyful Noise won't exactly fill what those "marathon runners" are wishing for but will definitely fill the hearts of millions who love a feel-good movie packed with melodious tunes along the way.
Dolly Parton and Queen Latifah light up the theaters once more as an unstoppable duo who leads the film in entirely new direction with their spunky attitudes and witty sense of humor. G.G. Sparrow (Parton) and Vi Rose Hill (Latifah) are the co-leaders of the Divinity Church Choir of a small congregation in the southern town of Pacashau, Georgia. Each year, the entire town, who has come upon rough times, puts their faith in the choir winning the National Joyful Noise Competition. G.G. and Vi Rose have a history of butting heads but this year it reaches a head with Vi Rose's promotion to choir director.
Joyful Noise is a film that makes you want to keep on watching. The cast was surprisingly pleasing, especially the romantics of the film. Olivia Hill (Keke Palmer), daughter of Vi Rose and star singer in her mother's choir, falls head over heels for Randy Garrity (Jeremy Jordan), the handsome grandson of G.G. who recently moved to Georgia from New York. Of course, her mother forbids her from seeing him as well as joining the choir. Nothing is overdone about their relationship in the movie; It's sweet and simple.
Of course, the music is the main ingredient in a mix of wonderful emotions this movie captures. They bring a new "vibe" to your traditional gospel fare by producing mash ups with songs such as, Michael Jackson's Man in the Mirror and Chris Brown's Forever. The original pieces were just as amazing. They make you want to stand up to sing and dance along with them. A random woman in the theater even clapped after one of the high-energy performances in the film.
Joyful Noise it is not going to win an Oscar for Best Picture but will definitely be a part of many home DVD collections for many families to enjoy. The actors and actresses does a great job with their characters and the music is, simply, enjoyable. It's the perfect idea for a mother-daughter getaway afternoon that will make the day even more delightful.