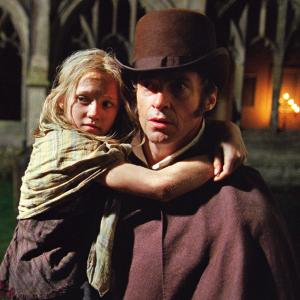 Director Tom Hooper has produced a truly unforgettable film adaptation from the popular Broadway musical and book by changes his life after being paroled and begins his journey as a new man. Javert (Russell Crowe), police chief, is on the lookout for Valjean after he fails to report back to his parole officer. He dedicates all of his time and effort into finding Valjean. Fast forwarding ahead, to 19th-century France, Valjean has adopted the beautiful Cosette and kept her in the safety of his own home after her mother (Anne Hathaway) dies of disease. Valjean devotes all his time and love to keeping his adopted daughter safe from those hunting him and the truth of his identity.
The film is a journey of lovers, losers, heroes, and villains and how their lives intertwine during the first ever movie-adaptation of Les Miserables with the classic Broadway songs. Victor Hugo. Jean Valjean (Hugh Jackman),
Jackman and Crowe are an unstoppable "cat and mouse" duo that no other Hollywood actors could have matched.
Anne Hathaway showed me a side of her acting I had never witnessed before with her beautifully heartbreaking performance of "I Dreamed a Dream" that is most definitely Oscar worthy.  Their real-time singing during the filming, instead of lip syncing, and acting brought the film to life and made the sorrows of the characters even more realistic.