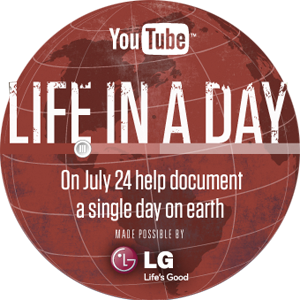 Life in a Day is not a typical movie consisting of a plot, main characters, and a climax. The movie premiered during the Sundance Film Festival on January 27. Directors Ridley Scott and Kevin Macdonald challenged people across the world to film themselves during July 24, 2010 and to post their videos on Youtube.
The videos submitted could have been any length or filmed , with any camera, and posted on YouTube. Macdonald then constructed a 90-minute feature film compiled of viewer submissions with snippets of everyday activities of people all over the planet in a montage of events that comprised one day on earth.
The video premiered live January 27 in their Youtube community. By far, it is one of the most unique films I have ever seen. Without a plot, you would think it would be boring or mundane; however, it was anything but.
Some parts of the film are not for the faint-of-heart, because some snippets of film display the harsh realities in life. For example, one scene displayed the actual slaughtering of a cow, while another scene showed starving children in an African village.
Video snippets include the daily events of that day including marriage proposals in our very own Las Vegas, a military wife's video date with her husband overseas, a man roaming Korea by bike, or simple activities like cutting hair, brushing teeth, and eating food.
The video was broken into parts based on categories of submissions. The most heartfelt category presented in the 90 minutes was "What do you love?" Viewers submitted heartfelt stories of things they loved, feared, enjoyed, hated, or missed.
As one of the most creative and innovative films of the year, it is definitely one to be viewed by all to open eyes to other cultures and to preserve the memories of people around the world for centuries to come.