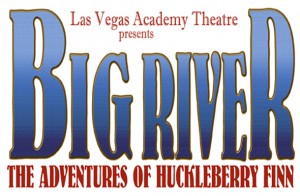 In contrast to the common assumption that high school musicals are unprofessional or amateur, Las Vegas Academy's student production of Big River: The Adventures of Huckleberry Finn was outstanding. Its highly qualified actors and durable sets presented what I would deem a professional musical production.
Based on the classic Mark Twain story The Adventures of Huckleberry Finn, the musical focuses on Huck (Taylor Laws), a rebellious boy, and Jim (Dimon Riley), a runaway slave, who embark on a journey to escape the unsatisfactory lives they are living, with the aid of Tom Sawyer (Casey Andrews). Not only were the musical numbers entertaining, but the story also reflected the seriousness of the physical and emotional struggles of slaves.
Referring to the actors, particularly Laws, Riley, and Andrews, were highly confident and dedicated to their roles. Laws portrayal of the main character captured the rebellious personality, with his mischievous actions. Riley's rendition of "Free At Last," channeled the desire to escape from imprisonment of a cell; it incorporated his excitement from seeing Laws and Andrews, who eventually free him, with the lyrics to convey his heartfelt emotion.
LVA students designed the sets and intricate lighting was used to display day and night scenes, which aided in bringing more attention to the play, with its bright party colors. The same, simple sets were used for multi-purposes in the musical, but the stage construction crew moved them around to create new settings. In addition, the actors' student made costumes maintained the raggedy image made famous by the novel.
However, there was only one weakness that affected the play during some parts. During some of the numbers, the orchestra did overpower the lyrics, which made it difficult to appreciate the vocal abilities of the actors. Perhaps the orchestra should have lowered their sound or ensured during rehearsals that the vocals could be heard.
Las Vegas Academy's Theater for the Performing Arts will have show dates from Nov. 17 to Nov. 19 at 7:00 pm, as well as 2:00 pm on Saturday, Nov. 19; tickets are available on www.startickets.com.