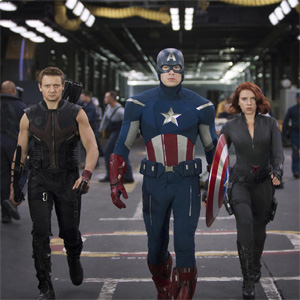 Marvel's The Avengers features The Hulk (Mark Ruffalo), Iron Man (Robert Downey Jr.), Thor (Chris Hemsworth), Captain America (Chris Evans), Hawkeye (Jeremy Renner), and The Black Widow (Scarlett Johansson) in a sarcastic, adventurous, and hilarious light. If you love comedy and adventure, you are in for a big treat. Going into the movie, I was expecting a relatively large amount of fighting and adventure, and although I wasn't disappointed with the action, I was pleasantly surprised at the funny scenes threaded throughout the movie that had the audience roaring.
Usually Marvel's superhero movies are chock full of the following: Women in distress, a supervillain usually plotting to take over the world, and a brave yet sensitive super hero willing to risk his life for the good of mankind. In this movie, you are stuck with a dysfunctional, unwilling, and a largely problematic team. Instead of the usual, there is a demigod, a man with breathtaking anger management issues, a couple of master assassins, and a high tech killing machine, all ready to go out and do their own thing with no plan of attack. As Iron Man said, "I do have a plan. Attack."
In the movie, Thor's brother Loki (Tom Hiddleston) steals the Tesseract, a high power energy cube strong enough to fuel the entire planet for eternity. Loki plans to use the tesseract to open a portal and bring in his army to take over earth as revenge against Thor.  Meanwhile Nick Fury (Samuel L. Jackson), the chief of S.H.I.E.L.D.S goes against the council and fights to put together The Avengers, a team consisting of several gifted people struggling to save the world. Throughout the entire movie, Fury sticks behind his team, and blatantly disobeyed orders from the council. The faith Fury had in his team was legendary, and seemingly misplaced.
Unfortunately for Chief Fury, the team members are as opposite as can be. Stark loves to input sarcastic remarks at the most inappropriate moments, most of them aimed toward Captain America. Thor adds a funny twist to the movie with his out of this world humor and concepts.
While I personally found the movie great, there were some aspects that I found a bit unnecessary and time consuming. Not being a huge fan of superhero movies or comics, I thought that the movie would have been better without Hawkeye and The Black Widow. First of all, they are just assassins. No superpowers, no super suit, just enhanced normal abilities. Next, they were not very useful until the final fight, and the things they did throughout the movie were overrated like shooting guns and arrows, and who needs bullets when you have the Hulk? But some comic addicts and Marvel movie lovers probably disagree with me. They might feel that because Hawkeye and the Black Widow were in the original Avengers, it would not be the same without them.
All in all I really enjoyed this movie. The plot was great and the actors have a feeling of humanity that makes you feel as if having a world full of superheroes is a real possibility. The movie's surprising comedy factor was icing on the cake, and I could not have asked for more adventure.