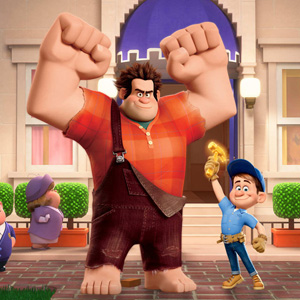 Director Rich Moore has gifted the fall season with another visually satisfying and humourous Disney-Pixar movie. Beneath the 'coding,' Wreck-it Ralph is an adventure-filled journey equipped with jokes and subtle references to amuse all-ages.
The story follows Ralph (John C. Reily) as he wrecks the hotel in the game "Fix It Felix Jr." Although programmed to be the villain for 30 years, he dislikes his role as the 'bad guy' and wishes to be known also as a good guy, but his only option is to hop from one game to the next.
Felix Jr. (Jack McBrayer), Sgt. Calhoun (Jane Lynch) and Vanellope von Schweetz (Sarah Silverman) assist in developing the film. Sneakily hidden in are other Disney characters for the keen observer and the soundtrack featuring Owl City was a great bonus for an alternative-music lover.
Wreck-it Ralph not only opens a new perspective of an exciting world within games, but has a surprisingly deep moral. Through Ralph's adventures, we realize to not judge by labels and status, but to understand others and accept ourselves.
The movie brings out our inner kid when admiring the amazing graphics and laughing at the well-used puns, which solidifies Wreck-it Ralph as a must see.