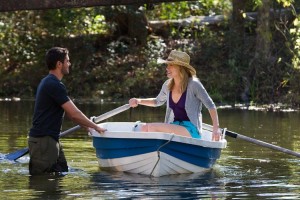 Readers knew it was only a matter of time before the newest, best-selling novel by Nicholas Sparks, would hit the big screen.  But, I'm not quite so sure the end result of The Lucky One, directed by Scott Hicks, was as sweet as the heartfelt previews suggested.
While stationed in Iraq, Marine Logan Thibault (Zac Efron) finds himself in many life-threatening situations. However, he is lucky enough to survive these situations, even when friends do not make it. Thibault spots a photograph across the lot, and after picking it up, he witnesses an explosion that wounds and kills several of his friends and fellow soldiers. With the help of his friend, he believes this picture has saved his life.  Because this is a major event in the movie, I would have thought this part to be more dramatic. This is said to be Thibault's life changing experience, and I personally thought that the "umph" it needed just was not there.
The photograph becomes his good luck charm and after having wild nightmares of his past years in Iraq, Thibault walks across the country to find the girl who saved his life. This was another event that was a little too short, as though this event was glossed over.
Soon after finding the woman in the picture, a single mother named Beth (Taylor Schilling) whose brother died in Iraq, Logan is introduced to Ben (Riley Thomas Stewart), who is Beth's son. The relationship Ben and Logan share and the charm Logan owns, convinces Beth that she cannot resist the relationship, and this is where it all starts: the two fall in love.
With all the drama and relationships in the film, it was exhausting trying to keep up.  The story line and ideas were great, but I am not so sure the organization was thought out enough to ensure the flow. Though the acting was right on when it came to the characters emotions and feelings, the climax was just plain boring.  There was no hook and I was personally waiting for that 'wow' moment throughout the movie.
When taking into consideration that this is a movie and not a book, I realize that the film was okay.  It was nice to watch the words I read come alive. The love story was cute, but the relationships with the characters and audience meant to be there did not cut it for me. Maybe this movie was lucky for one, just not me.