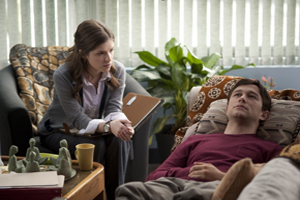 Inspired by a true story, Director Jonathan Levine displays the hardships that Adam Lerner (Joseph Gordon Levitt) encounters after being diagnosed with a rare type of cancer in 50/50.
Lerner moves comically through the emotional stages a cancer patient might face at a young age. He also faces additional problems: His best friend, Kyle (Seth Rogan), uses Lerner's cancer to attract girls on their nights out, his ex- girlfriend, Rachael (Bryce Dallas Howard), is cheating on Lerner, while his mother, Diane (Angelica Huston), worries too much about him, and his father, Alan (Philip Baker Hall), can't remember that he has a son. Lerner tries to face all of these problems, as well as the possibility of death, as calmly as possible with his naive and clueless counselor, Katherine (Anna Kendrick).
50/50 is based on Will Reiser's life, who is a close friend of Seth Rogen. Through jokes and laughs, Rogen tries to help his friend get better the best way he could. Rogen inspired Reiser to turn his personal story into a movie because he survived. He wanted to prove the point that if something horrible occurs in your life, it's possible that you can have a happy ending.
Levitt's performance was on point; each emotion his character experienced was portrayed authentically.  He tried to brush off his cancer as if it was the common cold. His character reflects how human beings don't know how to face death, even though it's something we all have to face eventually.
Viewers could misinterpret this movie because it's a comedy about cancer. On average, most people don't find cancer to be a joke. In my opinion, Levine successfully blends the comedic elements with a more serious subject matter.
I must give a standing ovation for the cast and crew of the movie 50/50. I walked into the movie theater only because I adore Joseph Gordon Levitt and I ended up walking out with more than I expected: life lessons about making the best of whatever happens to you.