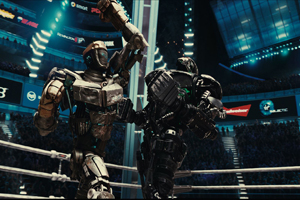 "Real Steel" has kicked "Rocky" to the side. Director Shawn Levy has taken boxing to a new level by replacing humans with robots. The father-son duo and their journey is packed with humor, romance, and, of course, action.
The movie is set in the near future where boxing has became a sport between programmed robots controlled by humans. Charlie Kenton (Hugh Jackman) is a former boxer who has taken up the sport. He is struggling with debt, when he found out his ex-girlfriend, who he had a child with, passed away. Max Kenton (Dakota Goyo) is sent to live with his father for the summer. Things start out rough, but after tagging along with his father during the summer on a robot-boxing tournament with their robot "Atom," they realize how much they mean to one another.
Goyo absolutely captured my heart. He steals the spotlight with his charming smile and precious personality. When he's dancing along with the robot that he found in a junkyard, I couldn't help but smile and fall even more in love with him. Jackman, of course, does a wonderful job of playing the grungy "has been" personality, which surprisingly adds to his incredible good looks.
Not only is the acting great, but the graphics and visuals are as well. The robots move and look like humans covered in metal, especially when they mimic a person's movements. To control the robot, Jackman actually "shadowboxes" outside of the ring and the robot mimics his movements.
"Real Steel" is exhilarating and perfectly paced. Sure, the movie is slightly cheesy with it's cliché morals and corny punchlines, but overall it's a fun and heartwarming film.