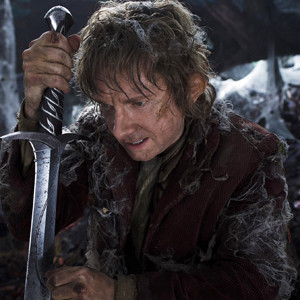 From the depths of Middle Earth, the prequel to the classic trilogy of The Lord of The Rings, The Hobbit, directed by Peter Jackson, takes the audience to another world in an unlikely adventure proving courage's true form.
The story begins in the warm house of a benevolent bachelor, Bilbo Baggins (Martin Freeman). He is confronted by Gandalf (Ian McKellen) to accompany him on a journey as a 'burglar' to take back the Dwarve's kingdom and to reclaim the Lonely Mountain from Smaug, the selfish dragon that has an affinity towards gold. The epic quest is accompanied by the 13 dwarves, including Thorin (Richard Armitage), the prince dwarf. Along the way, the incredulous, but determined band of half-pints fight their way through obstacles while Bilbo survives with wit and an amiable view of life.
The CGI is extremely detailed and the characters and landscape are remarkable; you might think twice if its real or fake.
As scenes are performed, the classical symphonies that play in the background and the dwarf song "Fall of the Misty Mountain" bring the film to a whole new level of musical fantasy.
While watching, The Hobbit's moral shines through Bilbo's courage and heart-warming deeds to prove that something powerful does not defy darkness, but small and frequent acts of kindness and love keep hatred and evil at bay. The acting was believable and the audience would be amused with the tenacity and irrationality of the dwarves.
Though the movie is uncomfortably long and could have been shortened by half an hour, its story is as exciting and as classic as "Lord of the Rings." Hardly disappointed and highly impressed, I am anticipating the next two installments.