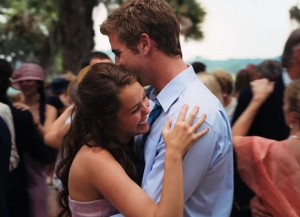 Nicholas Sparks' most recent romantic teen drama, "The Last Song", has just become Sparks' sixth book-turned-movie in a matter of 10 years. Miley Cyrus plays Ronnie, a rebellious and hot-tempered teen piano prodigy who gives up her instrument after her parents' divorce. Starring alongside her as Will, her love interest, is Cyrus' real-life beau and Australian newcomer, Liam Hemsworth.
Just like every other Sparks movie, this story is about a romantic relationship between the leading roles that in one way or another cannot work out. Just like in Sparks' "The Notebook," this story involves two people who have fallen in love, but come from two different worlds.
In actuality, this movie is almost exactly the same as Sparks' "The Notebook". The only differences between the two are setting, age of actors, and the fact that in "The Last Song", the boy is the sophisticated one and the girl is not.
Cyrus' performance is fairly amateur, as she is just stepping out of her tweeny-pop "Hannah Montana" career to pursue something more serious for a change. However, because of her over-stride to embody her character's personality, Cyrus does have the potential to play roles similar to Ronnie in future performances.
Hemsworth's performance, just like Cyrus', is a work in progress, but together, they make their love very convincing. The chemistry between them on-screen is undeniable, making their real-life romance unquestionable.
Montages play a fairly large, yet completely unnecessary role, in this movie. This allowed music to lessen the actors' work and tell much of the story within these cheesy scenes. The soundtrack, nonetheless, incorporated a variety of different songs that complimented the mood of the film. This soundtrack included tracks from Cyrus herself, Maroon 5, OneRepublic, Ra Ra Riot, and others.
It is safe to say that once you have seen one Sparks movie, you have seen them all. But if you do choose to see one more, I would suggest you watch "The Last Song." Just be sure to have a box of tissues handy and someone or something to cuddle up with.