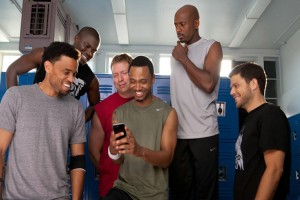 Take the advice of refraining from putting food in your mouth or sipping a drink while watching Think Like a Man. This movie will have you laughing so hard you'll develop a six-pack.
Five male friends are in the palm of their women's hands. Kristen (Gabrielle Union) uses Steve Harvey's book, "Act Like a Lady, Think Like a Man," to reveal men's secrets for women. The women follow Harvey's advice to manipulate the men for what they want. When the men discover the book, they use the book as an advantage to turn the tables and regain their dominance back.
Kevin Hart brings in all the comedic aspects of the movie, creating a hilarious twist on his friends' situations, along with his. His rants about his ex-wife, Gail, works the best. In my opinion, this movie cast the right set of actors and actresses to depict each type of relationship. They brought to life the different personalities, which allowed you to relate to them. When they felt sorry, it felt genuine. I honestly couldn't help but cry when the relationships were falling apart.
 The movie also shines light upon the differences and similarities regarding what guys want in a girl and vice versa. It shows how putting yourself before your significant other can hurt them and make your relationship crumble. It teaches that commitment is key, which standards can't always be met, and in the end, you will always need them. Although the lessons are mostly about love, they also apply to friendships and family. It was nice to see a movie that puts a variety of human bonds into view.
 If you want to have a good laugh and learn a little more about the game of love, "Think Like a Man" is perfect for you.