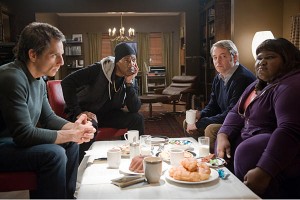 With a story that involves crime, comedy, and a connection to the infamous 2009 Bernie Madoff investment scandal, "Tower Heist" resulted in multiple laughs, and is a perfect break from homework.
Manager Josh Kovacs (Ben Stiller) learns that hard-edged businessman Arthur Shaw (Alan Alda) was attempting to flee the city, after embezzling The Tower's workers' money, which was invested with him. After learning about his lost investment, the doorman attempts to commit suicide, and Kovacs discovers that Shaw is suddenly $20 million richer. Because Kovacs gave Shaw the workers' money in hopes of gaining more, he strives to steal the entire amount back with Charlie, Enrique, a nervous bankrupt Wall Street investor named Mr. Fitzhugh (Matthew Broderick), and Slide (Eddie Murphy), an experienced thief.
"Tower Heist" has an unpredictable plot line that provides several opportunities for humorous situations. The audience laughed at how the characters were inexperienced with crime, and the idea of being caught caused the characters to freak out, such as Mr. Fitzhugh, who constantly looked panicked. Most of their actions contradict how crime in a movie like "The Town" should go, where gunshots are fired and characters are aggressive towards each other.
What makes "Tower Heist" so entertaining is its connection to the everyday worker. The actors played regular old folks, with similar jobs of our parents who work in casinos. Additionally, Alan Alda's role parallels Bernard Madoff, who also took millions from his workers in total; the story can be seen as revenge towards the incident, but with a comedic twist.
From his calm nature to his heroic side, Stiller is superb in "Tower Heist," where he assumes leadership immediately and tries to please everyone. Though he does not smile or laugh as much, his comical side is unique in that he cracks jokes bluntly, and his wit is still hilarious. His partner in crime, Murphy, known for his roles as Dr. Doolittle, Donkey from "Shrek," and "the Nutty Professor," is back and funnier than ever. His unpredictable actions and jokes concerning his team's activities are humorous. With his constant use of the phrase "Never trust a thief," Murphy's comical nature and overconfidence assisted in playing a role as a thief.
Stiller and Murphy, two of the most experienced actors in the business, made this movie entertaining, especially with their scheme that is surprisingly unique and risky. Not only is the movie relatable, but it also consists of one of the stupidest, yet funniest crimes seen in theaters yet. If you like crime and comedy, this movie will suit your needs.