A mile in my shoes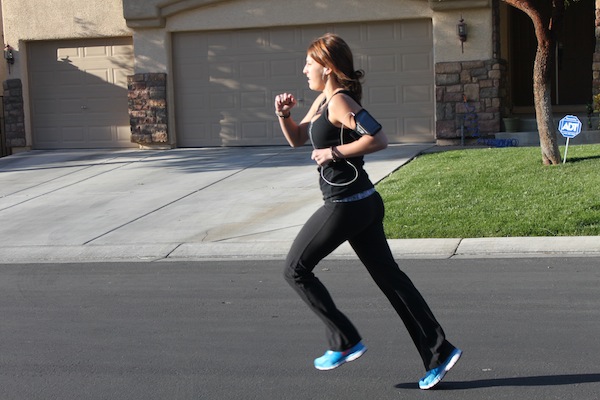 Running has always been my little escape. I grab my iPod, headphones, bright blue running shoes, and a bottle of water and head out the door. Living in a pretty decent community allows me to run without worrying about "bad guys." Therefore, I can completely take pleasure in my long and energizing jog.
Running is not just about getting fit for me; it is a time to rid your mind of anything but which side of the street you'll be taking next. Ironically, music helps me block out the material world. I've always thought that listening to music while exercising is nicer than playing it through a docking station while sitting at home. I love to crank up an energetic and fast-paced song as loud as I can to which helps me break into a medium-paced jog. I like being able to completely tune out the world for 45 minutes and only focus on keeping my pace and breathing steady.
I'm not super physically fit and I tend to take short breaks, where I walk along the sidewalk, but that's always one of the best parts of the entire run. I've always been a people-watcher and you never know what you'll see walking along that grey pathway. Best of all is the friendliness of fellow exercisers. For some odd reason, people always tend to say hello, good morning, good afternoon, or give a simple smile, which always brings a smile across my face.
Of course the physical benefit of running is just as great as everything else. I love the heat when it starts to rush through my body and the burn in my shins and thighs after I make it back to my starting point. I've found myself running for long periods of time without even noticing the pain shooting through my legs but once I do, I'm exhausted. Once I take a sip from my icy water bottle and a deep breath, I'm ready to finish strong.
Running is a great way for me to relieve stress and stay healthy. It's a way for me to escape the world of work and school and only think about the wind blowing across my face while running down the hot sidewalk. I know that I can always rely on a nice run to ease any worry I may have after a long day. Everyone needs a way out, sometimes. Everyone needs a way to "run" away from any problem, tension, or stress that's shrouding one's mind. It's important to find something you enjoy doing and throw all of your worries into it, whether it's reading a romance novel, watching a gooey-romance movie, or, in my case, running until you can't go any further.