School: A place of education, socializing and . . . segregation?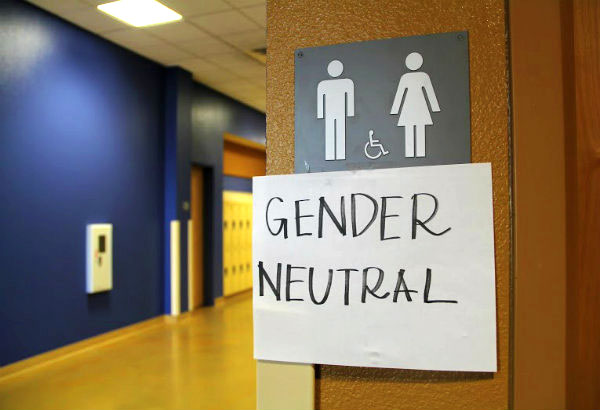 You step out of class for a brief moment, make your way down the hall and are confronted by two doorways. For many of us, choosing which restroom to enter is a no-brainer; for transgender students, this choice is not as black and white.

Recently, Assembly Bill 375, a bill requiring students to use the restroom of their biological sex, and therefore restricting students from using the restroom of the gender they identify as, was passed by the first Nevada assembly. While it has not been passed in the full assembly yet, this bill would prevent transgender students from being allowed to use facilities based on the way they identify their own gender.

As stated in a Review Journal article, published April 10th, "This bill would put all transgender students in danger by forcing them to use biologically congruent restrooms, locker rooms and shower facilities that go against their core gender identity," Tamara Zuchowski, an advanced practice registered nurse at the Reno Community Health Center Northern Nevada, said.

While the majority of students may see selecting the restroom that corresponds with one's gender to be a thoughtless task, transgender students face a difficult and unfair choice each time they need to perform a vital human function.

[vision_pullquote style="1″ align="center"] When we allow bills that create restrictions that target certain students to be passed in our community, focus is diverted from providing an education and instead shifted toward a student's gender identity while perpetuating embarrassment. [/vision_pullquote]

For transgender students, attending school and facing the risks that come with being a transgender person are already a challenge. When something as simple as using the restroom becomes masked with 'caution' tape and restrictions, it is understandable that one would become unmotivated to attend a school where they do not feel comfortable. As anyone might feel out of place using the bathroom that does not correspond with their gender, the same applies to transgender students.

A transgender student gave perspective on this situation in a January 29th Huffington Post article: "The only private restroom space in my own school building is set away from general classroom areas and separated by two floors from most of my classes. The two minutes I take out of changing classes or instructional time for going about my business would turn into a longer period . . . And along with that, it would create embarrassment and less affirmation for my gender. The prospect of having to go out of the way to take special action due to private anatomy (hence the word 'private') is segregation."

An educational facility's purpose should be to provide students with a comfortable and safe learning environment. When we, as a community, allow bills that create restrictions that target certain students to be passed, focus is diverted from providing an education and instead shifted toward a student's gender identity while perpetuating embarrassment.

"We see the struggles that our friends face every day of their lives and we know that for many of our friends, school is the closest thing they have to a safe place. To pass a bill that would prevent our students from doing something as simple as going to the restroom during the day is ridiculous," junior Natthinee Wongsavit said.

Allowing transgender students to utilize whichever restroom they find most comfortable would not be in any way harmful to other cisgender (those whose gender identity corresponds to their biological sex) students and has not been much of an issue in the past.

The main issue with allowing trans students to use the restroom of their gender identity is the potential for harassment towards them if they were to use those restrooms; however, the blame for that falls on the rest of the student body — not the trans students themselves.

Henry Brousseau, a transgender 11th grade student who testified before the Kentucky state Senate committee on the bill, told The Huffington Post that he had been bullied at school and that he had initially not been allowed to use men's facilities there. He recently said that things had gotten better and that he had been allowed to use facilities for men, which has worked out "terrifically," and without any complaints.

Additionally, there is no reasonable way to enforce this bill. Teachers do not have the time to walk every student to the restroom and make sure they enter the "correct" restroom. Deans and administrators can't walk every trans student to the restroom at the same time. Sending another student to go with them is just as illogical, since the student loses class time and the trans student feels guilty for asking. More importantly, all of these options would draw unwanted and unnecessary attention to the trans student.

Assembly Bill 375 calls unnecessary attention to an issue that is not a significant problem within schools. Its integration into various school district codes, in fact, seems to result in more problems than benefits.

"There are so many other issues going on with the school system in Nevada and it's disappointing to see that we choose to focus on something as little as this," Wongsavit said.

No student should feel conflicted about which restroom they should choose out of fear of punishment. Transgender students have every right to comfort and convenience in their learning environment as any other student and school districts should act accordingly.