Snuggies not worthy of hype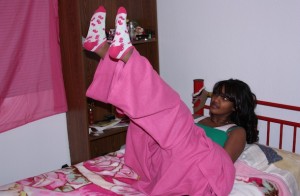 "It's the blanket with sleeves we all love!" claims the official Snuggie company in their advertising. Although it has been awhile since I learned about bandwagon propaganda techniques in seventh grade, I can still tell that the fallacy in this argument was prevalent. I did not fall for their advertising scheme; instead, my grandmother did when she gave me a purple Snuggie with pockets for Christmas this year.
Upon ripping off the gift wrapping, I was thrilled to finally be able to watch TV, do homework, and surf the Internet while staying warm and cozy. To my dismay, I found the "blanket" extremely difficult to use.
Despite my frustrations with the product, I still use it to make it worth the money. Sometimes I'll go grab my fleece Snuggie out of my closet to use. I'll sit down on the couch and begin the 5-minute battle with the "extra-large one-size fits all" Snuggie. Which way is up? Which way is down? Oops. My legs are in the sleeves. All this excess fabric doesn't help the situation. I found an arm!
But the battle is not over… I still freeze to death because the back side of the Snuggie is completely open and allows the cold air to penetrate my skin and cause goosebumps. In this manner, the Snuggie is just a super big fleece hospital gown that exposes my entire backside.
Of course as the day passes away and night begins to fall, the room will become dark. I'll get up to go turn on the light and ZAP. The static from the "super soft fleece" causes an instant electrical charge to run from the light switch, through my finger tips, and throughout my body.
I haven't yet attempted what the commercial shows: people playing games with the family, watching a soccer game, and sitting around the campfire without catching the Snuggie on fire. How are they staying warm when the only thing that is covered is their front?
The entire concept of a "blanket with sleeves" was a fail from the get-go. People should just learn how to dress appropriately for the season so that the rest of us don't have to deal with the atrocious Snuggie.