Biology 189 students begin stepping into the lab with new weekly experiments
Students have been able to partake in different labs related to their lectures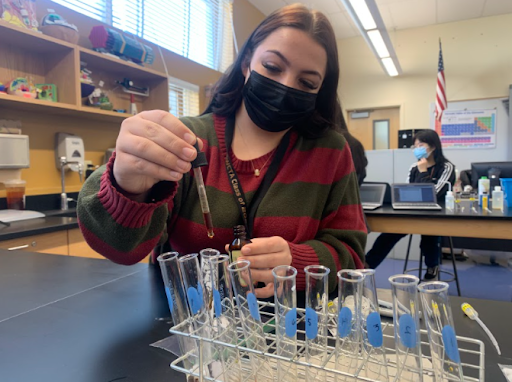 Having switched courses from Chemistry 108 to Biology 189 at the semester, students have begun performing weekly experiments to go along with their lessons. 
"After having Chemistry 108, Biology 189 was a very big switch because it is more hands-on and the curriculum is different," senior April Talaro said. "So far, the class has been rigorous, but I enjoy physically learning through the experiments rather than just going through the lecture."
Some of the labs students have done so far include: differentiating between object masses, utilizing the microscope to have a better look at different substances, and more. 
"Using these tools is really interesting to me," senior Kylie Chavez said. "We get a lot of experience with things we've never used before, which is not only helpful now, but will give us an advantage in college because I want to do Nursing and this is a prerequisite."
The course is the exact same as if students were to take it at Nevada State College, allowing students to get a head start on their college education. 
"I think students are more engaged with the hands-on activities and everyone seems to be happier doing that part of the class than the actual lecture," Dr. Mary Breslin said. "I always enjoyed that aspect of science more than memorization. We are using the same exact lab manual they use. So, I am ready to teach students about molecular biology, which is a little bit later where we do forensic analysis because that's where my background is and what I am most excited about."
Labs are not incorporated into students' actual GPAs, and are allowing students to gain more experience for future college-level labs and experiments. 
"I chose Biology as my major for UNLV and this class has definitely given me an intro to what I should be looking forward to in the future," senior Lizeth Ontiveros said. "I enjoy doing the labs and being more active in my classes, especially since I can get a sneak peek of what I'm going to be doing later."