Adjusting his snapback, Diego Ybarra stands by his car. For the last few hours, he has been watching people come and go, and occasionally answering questions and making small talk. At the StanceWars X Street Driven Tour, there are rows and rows of classic cars, all different styles and colors. Competing in the 'Best Classic' category for the second year in a row, Ybarra is up against ten other people and many families are coming to admire his truck.
"Is that a baseball bat for a shifter?" "What's under the hood? Still got that 20r?" "Is it modeled after the 78 or 80?"
"I like to see the looks on people's faces when they see something they've never seen at a car show before." Ybarra said. "It brings a smile to my face when a family can walk through a whole row of show cars but mom tells dad to get next to my truck with the child to take a picture. I also enjoy sparking up conversations with folks about my progress and future plans."
At the age of 15, Ybarra purchased his first truck with his father. Through a family friend, he was able to work out a deal and fulfilled his dream of purchasing on old school Toyota truck older than 1981.
"I thought it was pretty cool when Diego came home with his truck," Sergio Ybarra, Diego's brother, said. "I sometimes help him with fixing the engine and when he needs to paint the rims. My brothers baseball bat shifter is really cool and it really stands out at car shows because it's something that I've never seen."
Since he's gotten the car there have been many changes done to it to showcase Ybarra's personality. Starting with the wheels, he replaced them with 1950s styled Coker White Wall Tires and Moon Hub Caps. Instead of a regular shifter he has a 30 inch Louisville Slugger Baseball Bat.
"I don't follow the hype by any means, when I add pieces to my truck I intend to add things that have yet to be seen in others cars or trucks," Ybarra said. "In the car scene here in Las Vegas my truck walks tall, when I pull up to car meet or shows the chatter going on around me is heartwarming."
From seeing photos of car shows on Instagram to actually competing in them, Ybarra has taken home a total of nine awards. He attended his first car show at the age of 16 in Boulder City for the EOS showcase.
"For someone that plays sports it's like my championship. Garage time and prep for showcases is the equivalent to practice and games leading up to playoff," Ybarra said. "Nothing feels better than having something you created in your head and having it on display– that is a true feeling of success."
Winning awards such as "Best Rat Rod" or "Best JDM Old School" are just some of the titles that Ybarra's 1980 Toyota ickup truck has gotten. These events showcase some of the best cars all over the state. With rows of classic cars of all shapes and sizes, families gather at these car shows for photos and awards.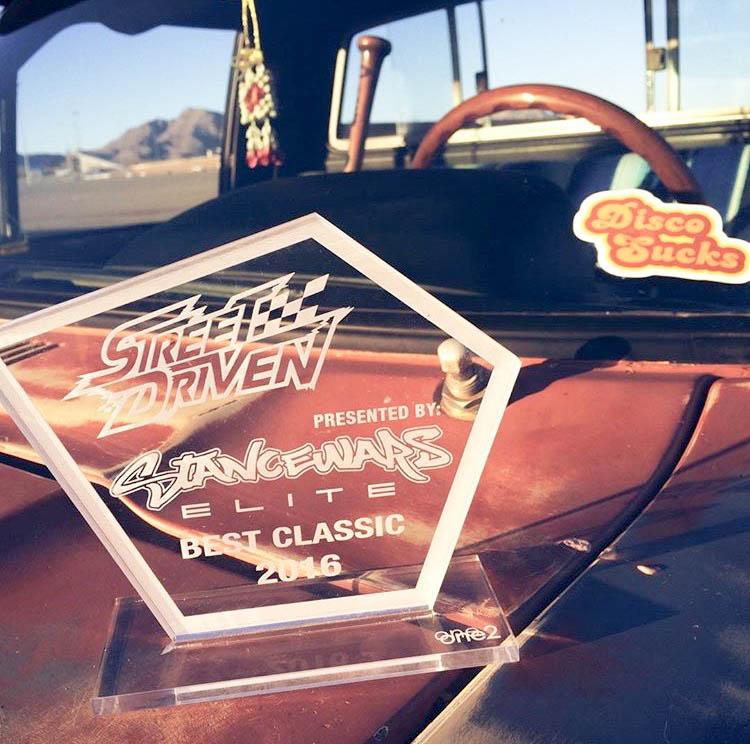 "For the second year in a row I won 'Best Classic' at a show called Stancewars," Ybarra said. "At the recent show the founder of the organization announced winners and when I went up in front of everyone to get my award it was touching because that man looked me right in my eyes and said, 'Son, I don't think there's any car in this world that suits you better, to express you and your mindset, looking at that truck I know you put in every ounce of effort you could and for that you're getting awarded 'Best Classic'.'"
While Ybarra currently has a 20r four cylinder engine, he plans on replacing it with a 1jz engine; which is known for its incredible amount of power. The difference being that instead of a 90 horsepower it will be 400+ horsepower. He also plans to change the suspension by using Air Lift Air Bags on a four link to allow him to go as close to the ground as possible.
"My favorite experience has to be being on The Strip at Las Vegas Motor Speedway to participate in the burnout contest," Ybarra said. "It was truly a great experience because how many can say they've been on The Strip to burn rubber without getting in trouble. I was proud of my truck that day and it was a big moment for me and for the people I surround myself with because it's an underdog of a vehicle to be doing big things like a burnout."
After high school Ybarra is moving out of local car shows and going to out of state car shows. He plans on competing in events that are more competitive and elite outside of Las Vegas.
"I don't plan on ever getting a new car," Ybarra said. "I want to keep my truck and just keep adding on to it throughout the years."
[poller_master poll_id="119″ extra_class=""]