Senior goodbyes
A few words from the graduating Journalism class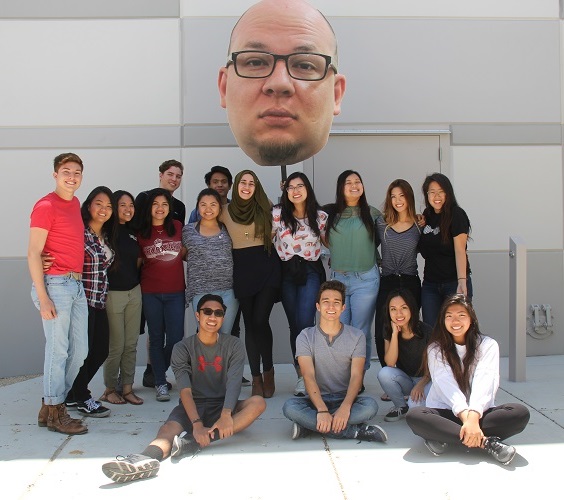 Whether they have been in the class for two years or four years, each senior from the Journalism class has something meaningful to impart after their time in The Howl and Southwest Shadow.
Tricia Ascano: Three years ago, I faced a fork in the road: to take or to not take Journalism? I think you can guess which road I took. Of course, this decision came with its own baggage. The Howl and Southwest Shadow staff members stayed after school and came in on countless Saturdays to devote our time to create each book (Never Forget, Left/Right and WHOA) putting in endless work into each page and design. To be honest, I don't know how I survived, but I did. Maybe it's because of the friends I made through journalism, calling ourselves "jfam," or maybe it's because of the laughs and food that came alongside the meltdowns. Now, three years later, I'm leaving. Next year, new faces will represent Journalism. So, treat them well, and . . . Adios!
Miruel Talaro: The three years I've spent in Journalism have played an important part in shaping who I have become at the end of my high school career. Although it was full of stress, I'm going to miss the people and the class. I've made so many memories on the trips, during the workdays, and in class. There would be nights when I questioned why I was still in the class, but in the end, it was worth it; all the work and effort put into producing the yearbook has shown me what true hard work and dedication look like. I've really come out of my shell and know that I will definitely take the skills I've developed in this class into the world.
Migi Contreras: Well, well, well, where to start? The decision to take Journalism was easily the best decision of my high school career. In these three years, I've learned so much, and grown as a person. Continuing on, being part of a news staff was what helped me develop a respect and love for writing and journalism. Writing for the Southwest Shadow, though stressful at times, was worth it at the end. We operated in unorthodox ways, but still did our best and won national awards, something that I take pride in and brag about. Also with Journalism, I've found a family and the closest friends I've made. This family here are people I know I can trust and count on when I need it most. So shout-out to the "jfam" for being lit, and I'm glad of all the memories we've made together, from staying late nights on workdays to great trips, and I hope we stay in touch with each other in the future. Our trips from our first in San Diego all the way to our last one in Orlando were always fun and carefree. I'll miss walking into this class and knowing that the experience of the day will be new and different from before. I love each of you from the bottom of my heart. Jfam forever, Migi out. 
Emily Yu: – "Someone wake up Emily" "HELLLOOO?" – LaPorte 2Kforever #CellyWillLiveOn
Okay. I am awake. For 3 years, Journalism has given me everlasting 12/10 friendships that I will take with me in college. From yearbook to news, I love these people to death. Every year I always look forward to the trips because of J Fam and now this time, the only trip I'll see them in is our paths to college. Journalism will be an unforgettable part of my life. If I had a choice I would relive the crazy deadlines again just to be a part of this class. You are all worth the dysfunctional moments. As for next year, I wish Justine, Yoao and Russel the best of luck. You guys will do just fine. I will miss you guys a lot and of course you too LaPorte. Now, to properly end this, all I can say is, "Bye Felicia." – #YuKnowIt
Kei Chua: Journalism sure was something. I honestly don't know what I would have been doing the past two years without it. It is filled with the best group of kids at school; people who are genuinely kind, supportive, and hardworking. JFam for life!! I want to take a second to talk to my J1 babies.
@russel: Rassle. Please always have confidence in yourself as the EIC. You are going to be amazing, you have brilliant ideas and the potential to be a good leader. Don't be afraid to say what is truly on your mind and to steer people in the right direction. You're taking Journalism into a new era! Also, thanks for always being sweet and putting up with my stupidity, ilysm.
@justine: I'm so proud of how much you've grown in the past two years. You have a good head on your shoulders and your energy is infectious. You're beautiful inside and out. Please stay that way, even if yearbook starts getting stressful (and it will.) I'm always going to be rooting you on. The world needs more Justine Ho's!
@yoaothegreat: My sweet son LOL. Although you do need to listen to everybody, it's okay to stand up for what you believe in. You have good ideas my man, sometimes you just need help executing them. That's okay!! You're capable of doing everything and you are going to be truly great one day.
OKAY NOW TO GET EMO.
@laporte: Hey LOL. I've only known you for two years, but you're one of the teachers that made the most positive impact on my life. Even if I was mad when you did it, I'm happy you pushed me to try and reach my full potential. You taught me how to defend my work, be more confident, supported me in whatever I did, and tips on how to write better. I'm so thankful for you. When I become an English teacher, I low-key want to be like you. I admire how much of yourself you put into the program, and I want to be as passionate as you one day. Also thanks for being my Hamilton pal and singing every emo/scene song with me. #PopPunkIsntDead
So yeah I'm outie. Thanks for all the memories guys, and just remember one thing: ugly cobs are fine as long as it's on a white background, no one will notice if it's small.
Mika Pagado: Where do I even start? To all the late nights, the countless work days on Fridays and the multiple Tropical Smoothie runs, I have to say that it was definitely worth it in the end. Journalism has played an important role in shaping who I am today. Not only did I learn to be a better photographer and better at designing spreads, I also built strong friendships. I take that back. By the end of my three years, it wasn't friendship anymore. It was a second family. From my very first convention in San Diego to my very last convention in Orlando, it was one heck of a ride. I want to thank each and every person that has made me laugh and smile along the way. Despite all the stress and tears that come with it, nothing beats the feeling of accomplishment with the JFam. Looking back, it brings tears of joy and sadness purely because I can't believe it's all coming to an end. I will sincerely miss someone asking me to edit photos, a student's contact information or to edit their spreads. Thank you to LaPorte for his hard work and dedication to the class. Words cannot describe how much Journalism has done for me. As for next year, I wish everybody luck and to overcome the challenges, but most importantly to have fun and make more memories.
Jen Chiang: I am writing my senior goodbye during my last Journalism class of my high school career and I can still remember the first. The last four years of my journalistic learning experience was quite the journey, and I am confident in the journalist that I am today. I look forward to maximizing my journalist abilities in the future and know that the skills learned in this course will take me miles down the road. Thank you for reading the stories that I have shared over the years. The support means a lot—be well.
Summer Thomad: I may be a writer, but there is no conceivable way that I could accurately describe in words what Journalism has meant to me throughout these past three years. Despite the long hours, the immeasurable amount of work, and every last bit of stress, joining Journalism is the best decision I have ever made. The skills I've gained, lessons I've learned, and the bonds that I have made (with this absolutely insane group of people I call family), is worth more than anything to me. I cannot even imagine my high school experience without it or them, and I will never forget all of the amazing memories we all have shared together.
I am so unbelievably proud of everything we have accomplished in Room C122, and I can't wait to see how the current staff will continue our legacy.
Journalism was so much more than a class. It has shown me the world.
Danijel Zekanovic: The past few years in Journalism have been a real blessing. Not only have I expanded on my writing and interpersonal skills, but I have also met some of the best and most vibrant people in my life within the walls of C122. Whether it was laughter or ugly crying tears (which the class is currently experiencing as they write their goodbyes), Journalism has always been packed with emotion. I wish the current staff the best of luck in following in our footsteps and exceeding all the achievements we have created thus far. Goodbye and thanks for all the memories.
Jorge Carrera: I can't even put into words effectively what Journalism has meant for me. It has been a mentor, a friendship, and a family. I started out thinking Skittles vomit was great design and believing that collages would be the next hot design trend. Needless to say, I was very wrong. Over the past three years, I have learned to get an ounce of creativity and design ability. I learned how to become a photographer, manage my time and how to deal with being stressed the heck out. I can't imagine how high school would be or how I would even be without Journalism. I want to say thank you to everyone in Journalism and to Mr. LaPorte. I will always have the memories, but it is time to say goodbye. Goodbye, my second family.
Tami Navarro: Journalism. This has been the word that has become synonymous with my high school life and my entire being. I started this class as a freshman and from then on I was trapped in it, especially after having become the Editor-in-Chief as a sophomore. My everyday schedule was dedicated to taking pictures, editing spreads, writing captions, and seeing my closest friends (JFam) in class. Now that I am graduating, I can honestly say I am a bit lost. There is a huge portion of my heart and my mind that was dedicated to this class and although I am leaving, I have taken many skills and memories from Journalism. From workshops, to conventions in Disney World, Journalism has served me a great deal. It has been stressful, chaotic, crazy, fun, memorable, and it has definitely been worth it. I thank Mr. LaPorte who has been my mentor for four years and although I give him attitude at times, I hope he knows how grateful I am for his lessons and for his dedication to the class. This part of my life has been finalized and turned into publication. I am ready to cover the next story and I hope Jfam will still be there with me.
Nikki Molina: Journalism, as well as everyone in it, helped me grow out of my shell and taught me how to speak up for myself. As stressful as the past three years were, I cannot help but be thankful for all the memories we've shared, whether it was riding the Tower of Terror or the Review-Journal luncheons. I have never felt so belonged. I really found my place, as well as myself, as I grew up with these people, wrote with these people, collaborated with these people. I never would have wanted it any other way, with any other people. My Journalism Family will always have a place in my heart, and I will never forget these past three years.
Acel Soriano: Without Journalism, I would not be the person I am today. I have made so many friendships that will hopefully last beyond Journalism. The past three years have been filled with laughter and tears because of Journalism, but I wouldn't have it any other way. I want to thank my Journalism Family (JFam) for always being there for me and for sharing the pain and the stress. I'm going to miss the countless text messages about news stories and deadlines. I dedicated so much of my life towards Journalism and I'm glad to have made such wonderful memories with my peers. From crazy adventures during Journalism trips to laughing until my stomach hurt during luncheons, I am glad to have found the people I consider family.