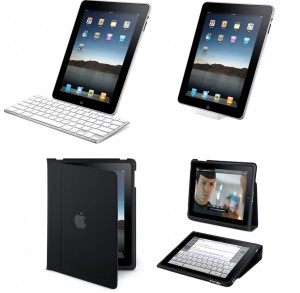 The Apple Company has brought the world a new generation of technology – beginning with the iMac in 1998.  What has Apple come up with now? The iPad. Some speculate that it will be just a bigger iTouch, but for others, it will change the way they live.
The iPad has been advertised as "a magical and revolutionary product, at an unbelievable price," according to the Apple website. The price starts at $499, without 3G. 3G is a cellular network that allows people to connect to the Internet over a wider range than with Wi-Fi.  The good news is that the 3G technology is optional. The bad new is that you have to pay for the service. So, if you do not need a broader access point than what general Wi-Fi can provide, then you might want to opt out of this feature.
"The iPad could completely change the way we learn at school, if we ever get them at school," states freshman Allyson Hall. "It would completely wipe out the need for printed books. It would all be online."
The iPad weighs in at 1.5 pounds, and is only 0.5 inches thick. The slight curve to the back makes it easier to pick up and lets you have a comfortable grip on it. The battery life lasts 10 hours, even while using applications. The iPad is like a tablet; it has no keyboard and is one piece. It is a touch screen, so it hides the keyboard until you need it. It also has landscape and portrait view; this means it can be viewed long-ways or side-ways.
The iPad does have a keyboard dock, which plugs into the iPad to let you use an actual keyboard, or you can use the Apple Wireless Keyboard. There is the Camera Connection Kit, so you can import photos from SD cards or cameras. Using different accessories, you can play content on the TV, projectors and displays. There is also a stand for the iPad, so you can set it in different positions to make it easier for you to use.
Apple continues to hype the iPad on their website with the quote, "It's hard to believe we could fit so many great ideas into something so thin," at the top of the website. Will the iPad change the world for the better? It seems like Apple has outdone itself once again. What new things will Apple come out with? We can be sure that Apple has much in mind, and may revolutionize the world, once again.