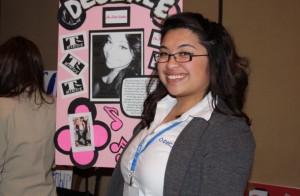 She's there to help us out, she's there to represent SWCTA DECA, and she's there to support and encourage us. Junior Desiree Tolentino will be leading us during the 2012-2013 school year as the Nevada DECA VP of Membership.
"I am really excited for her. She has done a lot for SWCTA DECA and I can't wait to see what she will bring forth to Nevada DECA," says Yuen Ying Ha, president of SWCTA DECA.
Before her promotion to a state officer position, Tolentino started as a general member of DECA. She wanted to join an after-school activity, but was not sure which one, until she learned about DECA in a computer class instructed by Mr. Perry Annett, current SWCTA adviser of DECA.
"I love the experience I have in DECA. It gives me a peek into how the business world is while still having high school spirit," comments Tolentino.
After a year of general membership, she decided to pursue a DECA officer position for SWCTA. During the 2011-2012 school year, Tolentino was elected Chairman of Membership by DECA advisers. During this time, she has created admirable memories that were important in her decision-making to run for state office.
"I was an officer for two years and I loved being a part of a great team and working to make each year as profitable and as fun as possible," replies Tolentino.
Running for DECA state office is not a simple task. Initially, Tolentino ran for VP of Membership the previous year, but was not successful. After overcoming her disappointment, she learned to persevere from this experience and tried again this year. Tolentino faced obstacles during this rigorous campaign that only encouraged her even more to win. She was required to build a platform, form a speech, pick a theme, make signs, and practice responses for interviews until it was fluid.
"What inspired me to be a state officer was the thought of me improving what great things DECA has to offer, being available to those who seek a better future, and do my best to have as many people I can have the best experience before hitting the real world," comments Tolentino.
According to Tolentino, her role models are past National DECA officers and the Nevada DECA state officers because "they truly have gone far in life and I want to go that far and even further than they have."
With true inspiration from her role models, Tolentino tried for state office a second time.
"I definitely feel great about it. This is my second try at state office and achieving my goal means the world to me. This gives me the chance to make other students as well as the current members have the experience that I've had in the past three years of being a part of this organization," happily states Tolentino.
Tolentino will assume several responsibilities for the upcoming 2012-2013 school year. Her duties include promoting statewide involvement in DECA and DECA week, keeping track of the numbers of current or growing members, and encouraging schools to have chapters.
"I want to do as much as I can to help achieve the goals that each member has. The more we can work together to accomplish these goals, the more we can accomplish," comments Tolentino.
Tolentino hopes to one day become a national officer of DECA, enroll into UCSF for graduate school, and become a successful pediatric cardiologist with her own practice.
"I had the confidence in myself that I am able to make a difference. I had a dream—ONE goal that I set my mind to. I wanted to show that no matter what you want to do with your future, somehow, you learn to be professional and to be smart with anything you do. I wanted to have my chance to make a difference for the benefit of others. I wanted to be a part of paving the way for a better future for other high school students in Nevada," closes Tolentino.