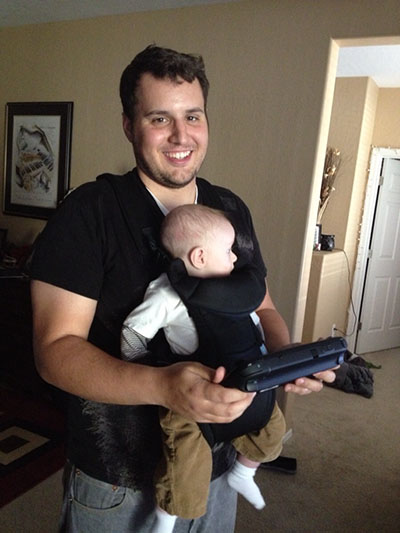 Many think of video games as a teenage pass time and can only hear their mother telling them to stop playing and start their homework. But, video games are a more complex hobby for people past their teenage years, and with adult responsibilities, Spanish teacher Mr. Nathan Jayme finds time to pursue one of his favorite activities: playing video games.
Southwest Shadow: What interested you in video games?
Nathan Jayme: My earliest memories of my childhood would be begging my older brothers to let me play Super Mario Bros., Castlevania, and Ice Hockey on the NES with them.  There were a lot of times I got the controller that wasn't plugged in; but I didn't know, and I didn't care.  I looked up to them a lot, and wanted to be like them.  Now neither of them play video games and I am a self-proclaimed "Nintendork."
Shadow: How long have you played video games?
NJ: I remember getting my brother's Gameboy as a Christmas present when I was 7.  My favorite game was Warioland.  Last year I saw a kid in mentorship playing it on his laptop using an emulator.  It made me feel good knowing that the current generation of kids still play the green/tan graphics of a graphing calculator on a state-of-the-art Ultrabook.  I went on a console hiatus for several years; playing MYST, Unreal, and Command & Conquer on the PC, but when Guitar Hero came out, I was back on the gamebox.
Shadow: What makes a good game and sets it apart from others?
NJ: I think the problem that the current generation has is that we have had so much graphical evolution and technological progress within the last twenty years that we have lost sight about what makes a game good: the gameplay experience.  The sensations, frustrations, and victories you share with your family and with your buddies is more important than how pretty the game might look.  That is the kind of game that you'll keep playing for years on end and also does not depreciate in value.
Shadow:  What is your favorite game to play?
NJ: Growing up, I hated The Legend of Zelda.  I thought it was too difficult, and I was frustrated that the objective wasn't spelled out and you had to talk to various non-playable characters in order to get clues on where the next dungeon was located, or what equipment was required.  Now that I'm older, that sense of exploration and discovery is very rewarding.  There have been several games that are influenced by this style: Skyrim, Portal, etc.  My favorite game from that series would be Twilight Princess.
Shadow: What is the worst video game you have ever played?
NJ: Oh gosh. It's difficult to say. The worst video game that has been criticised endlessly was the ET game for Atari. The gameplay had absolutely no correlation with the movie, and the game was virtually unplayable.
Shadow: Are games getting better as technology progresses?
NJ: Right now there are so many modes of videogaming that this next generation (Wii U, Xbox One, PS4) will likely be the final round of the console wars.  There are people coined as casual gamers that pump in about 40 hours/week playing Farmville on Facebook.  That isn't exactly my definition of casual gamers.  Others purchase iPhones for playing popular mobile games like Infinity Blade III, which have the same processing power as Xbox 360 and PS3.  Some of my students have built their own gaming based PC that have three times more content and offer thrifty alternatives like Steam and other cloud based gaming. Android gaming boxes like the Ouya and Mad Catz M.O.J.O. provide a cheaper alternative to console gaming and also promote indie games from the developer to the gamer. There is an abundance of gaming styles, and they are becoming a lot more available to the consumer: to your pocket, to your computer, to your tablet, to your living room. In this instance, it is clear that quantity and access trump quality in the eyes of the developer.
Shadow: What video game would you create?
NJ: I would want to do a text-based discovery game much like Cranston Manor or Dungeon and Dragons where the story is written in a second person narrative. The action would play out like a "Choose Your Own Adventure" game which determines the story line.
Shadow: Have you ever gone to a video game convention?
NJ: No, I have not. every June there is an enormous gaming convention in LA called E3, (Electronic Entertainment Expo) where developers show off their wares for the upcoming fiscal year. This past E3 was a historical one due to the release of the "next generation" consoles announced by Microsoft and Sony. Both Mr. Moore and I were following the news very closely online, that we dedicated the majority of those three days in the front of the computer reading articles and watching live streaming video from the conference. Both of our wives expressed distaste in us for involving ourselves so deeply in a video game expo.
Shadow: What kind of achievements have you reached from this hobby?
NJ: "Achievements" is almost a catch phrase in gaming, especially if you own an Xbox where you are rewarded with completing certain portions of the game.  There is major league gaming where friends of mine have competed and won thousands and thousands of dollars in each event playing various first person shooters.  I have never aspired to compete in that forum.
Shadow: What kind of opportunities has gaming opened up for you?
NJ: My wife gave me a 3DS for Christmas a couple years ago.  Many of my students know that I carry it every day to obtain Streetpasses: coins, points, and additional power ups to enhance the gaming experience.  I have gotten to know other students that do the same thing.  Now that the 3D Pokemon game was released this past month, I usually tag up to 10 Miis per day!
Shadow: Do you have any other hobbies?
NJ: I also enjoy music a great deal.  I played the drums in high school, and I sing in various choirs at church.  I am also active as an assistant scoutmaster in our church troop for the Boys Scouts of America.
Shadow: What is the best part of a video game?
NJ: The ending credits.