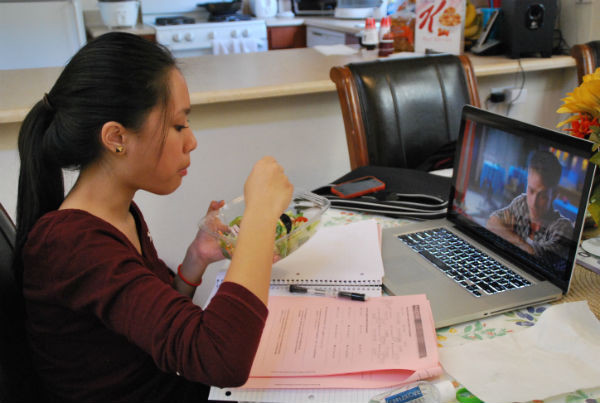 John decides to put off an essay due in four days at midnight, and he keeps pushing it off saying, "Oh, I have time. I'll just do it tomorrow." Days pass, he forgets, and suddenly, BAM! His essay is due in four hours. He realizes this, so he begins cramming four days worth of researching and writing into four hours. Without revising and checking his work, he turns in his essay to his English teacher with only five minutes to spare.
Phrases such as, "Oh, I have time. I'll just do this tomorrow," "I have to do my homework, but I should eat first… and take a shower… and clean my room," and "I'll just do this during lunch," are commonly thought of–or said–by a number of students.
In fact, according to Dr. Piers Steel, psychology professor for the University of Calgardy, said, "Students are biologically and socially predisposed to put off until tomorrow what we should do today."
A recent survey of 200 students identified that 160 participants said that they procrastinate on a daily basis. And although a vast majority of students experience it daily, there are still those few students that manage to escape the procrastination trend, proving it is possible to escape the temptation of procrastination.
Here are some of their techniques:
1. Stay Away from Social Media, Television, and other Electronic Devices
Social media sites such as Twitter, Instagram, Tumblr, and Vine are each easily accessible and within arm's reach of most students. According to the article, "They Do It All While Studying" by Chris Gaither of the L.A. Times, 53% of children ages 12-17 said they did at least one other thing while they were doing their work, such as watching T.V., watching a movie, going on the internet, and text messaging.
Before starting homework, you should turn off all electronic devices, except those you need for your assignments. If a computer or laptop is being used, resist the temptation of making a new tab to open up any social media sites. Keep your cell phone, the television, and other electronic devices out of sight to avoid misdirecting your focus.
2. Create a "To-Do" List
Making a daily "to-do" list can help you stay on track. This way, you will not forget anything that you need to do that day. The sense of accomplishment also comes into play with "to-do" lists: You make the list, you start one assignment, you finish that assignment, and finally, you get to check it off the list, and you can start thinking, "YES! One done, three more to go!"
Keep your "to-do" list manageable and feasible by selecting the most important tasks and the ones that are due earlier as your main priorities.
3. Keep Your Environment Distraction-Free.
Your surroundings have a huge impact on how well you work. A messy, loud, distracting environment can increase procrastination, and it can be a struggle to stay focused on your work. An organized, clean, peaceful environment. however, will keep you from directing your focus elsewhere.
Some students prefer staying at the library to finish their work, instead of staying home. But if you cannot go to a library, set up a regular workstation in your room, or another room, where you will be less likely to be bothered. Once you have that done, keep it organized and cleaned after every homework session.
4. Set a Schedule
Sometimes, you might feel like you are way behind in school work, or there is just too much work to juggle, that you just quit. Setting a well-thought-out work schedule (prioritizing accordingly) for the next two days is a useful way to keep them from overwhelming you. After you have devised a schedule, keep your focus steady on one assignment at a time. If your English teacher tells you to read the next six chapters of a book before the next class, and you have not read the previous four chapters, you can divide the chapters equally, and make it part of the schedule to pace yourself.
5. Stop Making Excuses!
When wanting to procrastinate, excuses and other tasks become more appealing. If you stop making excuses and dedicate however many minutes to said assignment, you will find that you can finish more work in less time. Try setting up rewards for every time you accomplish each of your tasks to motivate yourself all throughout the day, such as allowing yourself to walk your dog, eating a sweet treat, or watching 30 minutes of television. It all comes down to self-control.