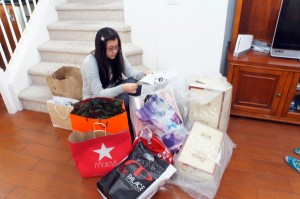 Following Thanksgiving is one of my favorite weekend holidays, Black Friday. It is the day where I can search for sales, bargains and competitively shop in dozens of stores for many hours. In this modern world, Black Friday is the urban battlefield where experiences may be unbearable, but is all worth to find that perfect sale and finishing a shopping spree with money still left in your wallet.
11:02 p.m. Location – Las Vegas Premium Outlet
I have arrived and the line is not too long for the Coach Factory store. It's cold outside, but still bearable under my layers of clothes.
11:49 p.m.
People in the line start to track down the bags they want through the window; I can see the edge stretch across the block, hindering the car path. I wonder if anyone will get hit by a vehicle . . .
12:05 a.m.
The game has begun; my mother warned me not to drop a bag or else another predator shopper may grab it.
12:30 a.m.
Four bags, one wallet–it is nothing compared to the dozens of bags others have in their grasp. Some women are utilizing their companions as pack mules for the load.
1:10 a.m.
I stopped by Tommy Hilfiger ready to find any good deals, but did not purchase anything because their sales were not up to my Black Friday standards. I mean, a $60 sweater with only 10% off? No way am I spending that much!
1:40 a.m.
We bought Mont Blanc Starwalker and True Religion Hippie Chick at Perfumania for the BOGO deal. It smells wonderful in contrast to the sweat and unnerving aroma some shoppers have from bargaining and saving their cash.
2:30 a.m.
We later met with my aunt's family to shop together for the rest of the morning. My aunt lost her phone in the chaos and we searched through the racks and under the furniture to find her cellular device. We finally found it under a pile of sweaters that she decided not to buy.
3:02 a.m.
We purchased boots from Aldo, which was comprised of many youngsters modeling their youthful, but specific fashion trends, then later walked across the outlet towards Ann Taylor's Loft where my mother wandered around and my father and I told jokes outside in the cold.
3:30 a.m.
Adidas is empty: a completely different sight from previous stores. The racks are barren and the aisles are empty and deprived of the shoes they once had, already scooped up by the ravenous shoppers.
4:00 a.m. Location – Town Square
We arrive at Town Square for the doorbuster deals, and I am not surprised to see around 300 cars parked and shoppers ready to empty their pockets around the outdoor mall.

Loading ...
4:15 a.m.
Finish Line has a group containing at least 20 people, of which were mostly men, for their "Warrior Weekend Sale." My dad and I would have joined, but laziness took over.
4:40 a.m.
My mother is waiting for New York and Company to open so my father and I stroll around the vicinity and are surprised to see shirtless models at Hollister and Abercrombie & Fitch out in the cold. I want to Instagram the scene, but decide against it.
5:15 a.m.
Sleep calls my family so we head home at the break of dawn. I am tired and overwhelmed at the amount of purchases in our trunk, and the extravagant deals we received.
Six hours of non-stop bargain hunting was well worth it for all the merchandise I was able to purchase at a much more reasonable price. Next year, I shall be in the lines once more.