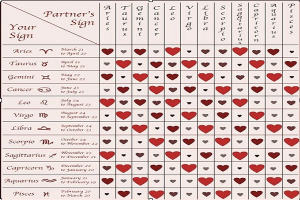 The theory of compatibility is based on the idea that Zodiac signs represent certain traits that are acquired based on the day and time a person is born, which may or not may make them romantically compatible.
"I don't consider astrology to be science. It deals with the way planets are aligned and gives predictions of peoples connections to one another based on their Zodiac sign," explains chemistry teacher, Mrs. Elizabeth Williams.
Zodiac sign compatibility may seem ludicrous to many people, but for others, understanding this compatibility is an excellent way of determining if two people have the psychological and social values that match or clash.
"I'm definitely not one to believe in the Zodiac sign compatibility. I believe that the way that two people are determined 'compatible' or not is based on what they feel in the heart, not what astrologers believe," explains sophomore Julia Wenzinger.
It is shocking how often astrological compatibility predictions can be proven true and the reason why certain romances will not last. According to astrologer, Galileo Galilei, many astrological predictions concerning different countries and people have been more than 80 percent accurate. What often confuses people about Zodiac compatibility is that love can occur between any of the Zodiac signs at any given time. Zodiac compatibility is not about whether people can fall in love, but rather if that love can last long term.
"I'm a Leo and my boyfriend is a Libra. I did a little research and it turns out we are compatible with each other. Its amazing how some of the points it mentions actually relates to the way we treat on another," exclaims sophomore Alexa Munoz.
Love is going to do what love is going to do. From my personal experience, it is best to have all the tools, tips and secrets available to make the most out of what love provides ranging from different books or websites. I'm a Scorpio and in 'Astrological Compatibility' by Lynee Palmer, the main traits Scorpio women are known for is intense concentration and determination when setting their mind towards a goal in life and also for being compassionate for people as well as hobbies.
Every love relationship is different. If astrology can be used to make finding the perfect partner easier, or help an already established relationship survive, then what can it hurt to be open minded about it? After all, thousands of years of study have used predicting romantic compatibility that should not be wasted.
There is a mutual agreement that most, if not all, relationships can improve and that everyone is compatible with one another once each of us learns to accept and compensate for our differences. Is Zodiac compatibility fact or fiction? There will never be an accurate answer. The final answer seems to lie in what each individual person chooses to think.