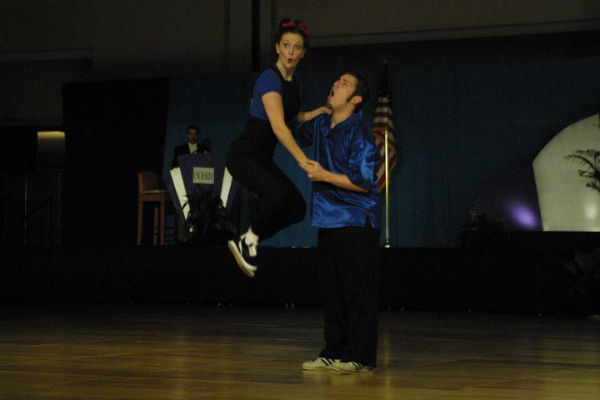 A woman of several skills and hobbies (including vintage hat collecting and the making and selling of hair accessories, in addition to her master ability and knowledge of sewing), Fashion Design  and Construction Instructor Ms. Shannon Sheldon is a once nationally ranked swing dancer. One of the more difficult categories of dance, swing dancing roots back to the 1920's-50's, and is danced to traditional jazz and ragtime music.
Southwest Shadow: You've mentioned to your students that you're a swing dancer; What made you want to start dancing?
Shannon Sheldon: I have always enjoyed the music of the 1920's-1940's. My grandma was a jitterbug and Charleston dancer; I wanted to be like her. I didn't learn until I was almost 30 years old. You are never too old to learn something new.
Shadow: What styles/decades of swing do you dance? Which are your favorites?
SS:  I do the Charleston (20's), Lindy hop (30's-40's), Balboa (40's), Collegiate shag (30's), the Big Apple (30's). Lately, I prefer Balboa. It's less athletic than the Lindy Hop and lends itself to my aging joints and limbs. It has a very interesting history.
Shadow: What are your favorite aspects of swing?
SS: That it's a partner dance. People don't dance together anymore. It's a conversation without words. As the follower, it's a bit of a roller coaster ride. You never know what move the leader will throw your way next.
Shadow: Have you always had the same dance partner?
SS: I had the same partner from 2000-2004, then a different one for about a year, but that was just for competition purposes. Swing dancing is considered a social dance, where you are able to dance with anyone. A regular partner is not required, as long as you know how to lead or follow the dance.  I can actually lead AND follow, so sometimes I will even lead another girl if there aren't enough guys around.
Shadow: Have you ever been injured due to dancing?
SS: Oh sure. I've been dropped on my head, and I've even developed a Baker's Cyst on my knee from dancing. I only know of famous football players getting those. Once, at the US Open, part of the set (the pipe and drape) fell on my head as I was going out to perform and it almost knocked me out. It wasn't funny at the time, but looking back, it is.
Shadow: Do you still participate in swing dancing competitions?
SS: I am a former competitor. I don't compete anymore. I was nationally ranked at one time, placing 5th in the US Open Swing Dance Championship and 3rd at the American Lindy Hop Championship and National Jitterbug Championship.
Shadow: What did you do to prepare for competitions?
SS: It depends. At one competition, the dance only took two weeks to choreograph and we did very well, but that was an anomaly. We were just in a groove, or in the zone, if you will. When we went to the US Open we prepared for months, rehearsing several times a week, and we didn't do half as well as we did in the performance I just mentioned.
Shadow: Are there any artists whose music you prefer to dance to?
SS: Artie Shaw, Benny Goodman, Django Reinhart.
Shadow: In which ways has swing dancing affected your life?
SS: It cost me a lot of money, that's for sure. Lessons, costumes, and traveling the country all take a lot of cash. I have friends all over the world now. I have a place to crash in any major city of the US because of my swing dancing connections.
Shadow: What do you consider to be the most important lesson you've learned from swing dancing?
SS:  To listen even if there are no words. Volumes can be said with body language alone.