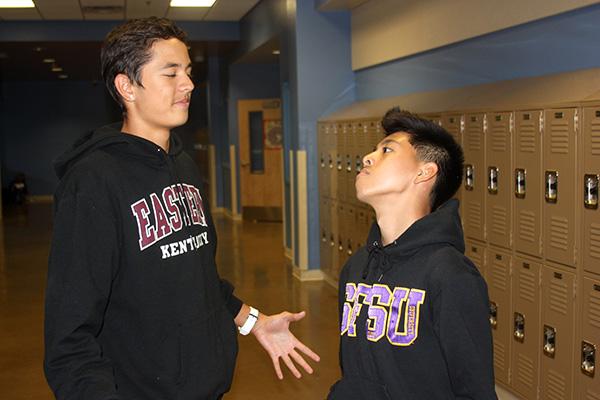 Like the majority of Southern Californians, sophomore Leonardo Castro is a Los Angeles Lakers fan. When the Lakers play, Castro watches every second of the game. His family, who influenced Castro in being a Laker fan, sits and watches with him.
"Yeah, most of us [Castro's family] are Laker fans. They made me watch Laker games with them. It's what sparked my love for them," Castro said.
But Castro has moved from Southern California, to Las Vegas, where there is not an NBA team.
Taking team with you
Many locals have moved to Las Vegas from other cities, states, etc. Being that Las Vegas does not have a sports team, they can either continue liking their hometown team, or possibly stop watching their team or sport.
For Castro, when the Lakers struggle, he does not stop being loyal to the Lakers, as it is cemented strong, especially this season, as currently the Lakers have posted a 25-50 record as of Apr. 3. Yet, this does not affect Castro's loyalty to the Lakers.
"Yes, this season is a test for all Laker fans everywhere. As a Lakers fan, I know things are bad, but everything will get better. My love for them has kept me loyal," Castro said.
Importing team loyalty
Team loyalty is not limited to students. Freshman Studies teacher, Mrs. Laura Penrod, is a fan of the Philadelphia Eagles. Like Leonardo Castro, Penrod likes the Eagles because of her family.
"Family and my husband are the two reasons why I love the Eagles," Penrod said.
Penrod's father was a fan of the Eagles because of former UNLV quarterback, Randall Cunningham. Her husband was a fan since he was eight years old, and that's what started her love for football and the Eagles.
"Then, when I got married, I fell back into football. So my love of football came from him, especially the Eagles. Being that Cunningham is from Vegas, it is kind of cool to have a team you can associate with, being that we don't have a team here," Penrod said.
What Vegas has to offer
Las Vegas doesn't have a professional sports team, but Las Vegas does have minor league and college sports teams. For example, residents support the UNLV Rebels at their football and basketball games, minor league hockey team, the Las Vegas Wranglers, and minor league baseball team, Las Vegas 51s.
"It's a good alternative to watch the Wranglers since we do not have any other professional sports teams here. At least it's a start to having other actual teams," sophomore Nicholas Wortham said.
Many big name teams are broadcasted on television, whether it is the Miami Heat of the NBA or New England Patriots of the NFL . Exposure to these teams can lead to choosing a team.
"I'd still favor the San Francisco 49ers more, because I'm originally from San Francisco. I also don't think I would like the Vegas team very much, because Las Vegas, in my opinion, doesn't seem like the type of city to have a professional team," sophomore Jessa Bermudez said.

However, there have been many rumors and considerations of professional leagues having teams relocating or having expansion teams in Las Vegas for years. For locals already having a favorite team, it can be tough to choose between a team they have liked for a long time, or the new team in Las Vegas.
"I started to like the Netherlands soccer team, because they won a lot in the World Cup and were on tv a lot when they played," sophomore Stepan Gevorgyan said.