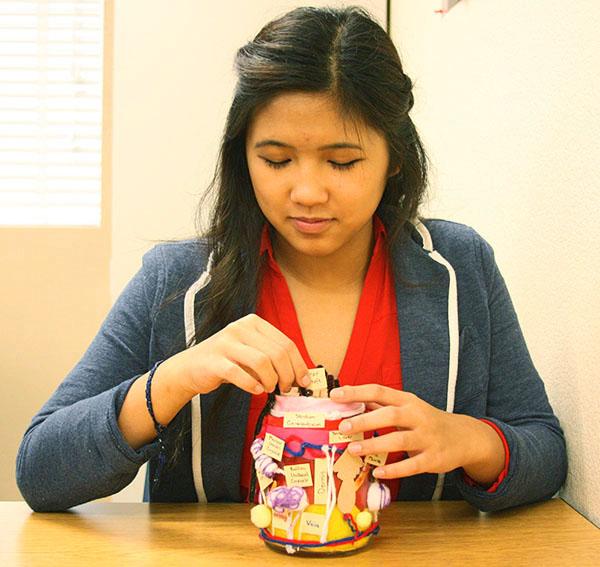 Sophomore Kelly Bui enjoys spending her free time making specially designed gifts for her friends. She usually crafts on canvas and decorates empty jars, inside and out. Bui also creates a variety of other unique projects. Her crafting hobby began a little over a year ago.
Southwest Shadow: What inspired you to start crafting?
Kelly Bui: I wanted to make presents that were special for my friends. I think I've made around 10. Each present had something that represented them as a person. My first project was for one of my close friends that I'll be celebrating her birthday for the last time. She was going to move away for a while during that year. I wanted to make a present that was special and meant a lot for her.
Shadow: Where do the projects go?
KB: I give all my projects away. They're all presents that were specifically for them from their likings and interests.
Shadow: Does anyone help you with them?
KB: Sometimes people help me during my projects, but I mostly work alone. I always have this certain image of a project, and it's hard to explain that.
Shadow: When do you usually make these crafts?
KB: I make these crafts usually a week or a couple of days before the event or birthday. I try to be exactly on time, so I can give them the gift on that day.
Shadow: Why do you enjoy crafting?
KB: I like it because I enjoy seeing the happiness of the person receiving the craft. The craft is all about them, so I think that they feel special that someone thought about them.
Shadow: What are your usual needed materials?
KB: My hot glue gun is what I mostly use in every project. Depending on the craft, I use a jar, poster board, crayons, or origami. Then I'll use any other materials that are needed for the certain theme or image of that project. Sometimes spray paint, cotton balls, or moss is needed.
Shadow: Which project do you believe turned out the best?
KB: The project that turned out the best would be either a waterless snow globe or the 3-D origami of Mashimaro.
Shadow: Which project did you believe to be the most time-consuming?
KB: Both projects that I mentioned before took the most time. It took around a week to complete each of them.
Shadow: Which project do you think was the most fun to make?
KB: The waterless snow globe was probably the most fun to make. My brother and another friend helped me on it, and it was my first jar craft too. It was the project that I worked on the most, and looked the best overall.
Shadow: What do you plan to make next?
KB: I actually plan to make another jar for my friend's birthday. It's going to be based on what she enjoys in her life, so I'm going to include Sailor Moon somehow.