She steps across the threshold, taking in the new environment for the first time. She is confused about where to begin; should she try a turkey leg, get in line for Space Mountain or take pictures with characters? The animated surroundings bring a buzz of excitement to learn the workings of the park and find the true magic of Disney.
Another girl strides confidently into the park. She knows exactly where every ride and attraction is placed and where every hot spot for food can be found. She knows which rides have the longest lines and which are the most exhilarating. This is not her first trip to Disney, but the feeling of elation has remained consistent with every visit.
For many of the students attending the 2015 Journalism Education Association (JEA) and National Scholastic Press Association (NSPA) "Media Magic" convention held in Orlando, Fl., a few days will be spent at Disney World. Whether these students are experiencing the life of Disney for the first time, or are on their dozenth visit, yearning for more than simply going on rides provides an exciting adventure.
For students like Tazzie Shipley from Rocky Heights Middle School, this trip presented an opportunity to take their first steps into Disney World.
"I walked in and it was really colorful. It just made me feel happy because everyone was so warm and welcoming," Shipley said.
But for other students, this outing to Disney was one in a string of many. Nicole Eastwood from G-Star School of the Arts has attended Disney World several times, yet each visit brings a new sense of magic and wonder.
"As I get older, I get more out of it and I notice new things as I come back because Disney is always introducing new attractions. I still have that surreal 'Oh my gosh this is a magical place' feeling," Eastwood said.
Since Oct. 1, 1971, Disney World attendees, whether they're first-timers or regular visitors, have been coming from around the world for everything that the park has to offer.
"I really like Disney movies so it's fun to come here and meet the characters, and see the effort that they put into their jobs," Katherine McGowan from Scotch Plains-Fanwood High School said. 
Furthermore, it is the attention to detail that continually draws in guests and gives them the opportunity to learn more about Disney and bond with friends and family on each visit.
"All the little details and the simple things throughout the park, like a bush shaped like Mickey Mouse, make the whole park connect and it's really cool," Cassidy Turner from Atlee High School said.
Also, the atmosphere Disney creates by offering numerous attractions and hiring a dedicated staff results in creating memories outside of usual amusement park affairs.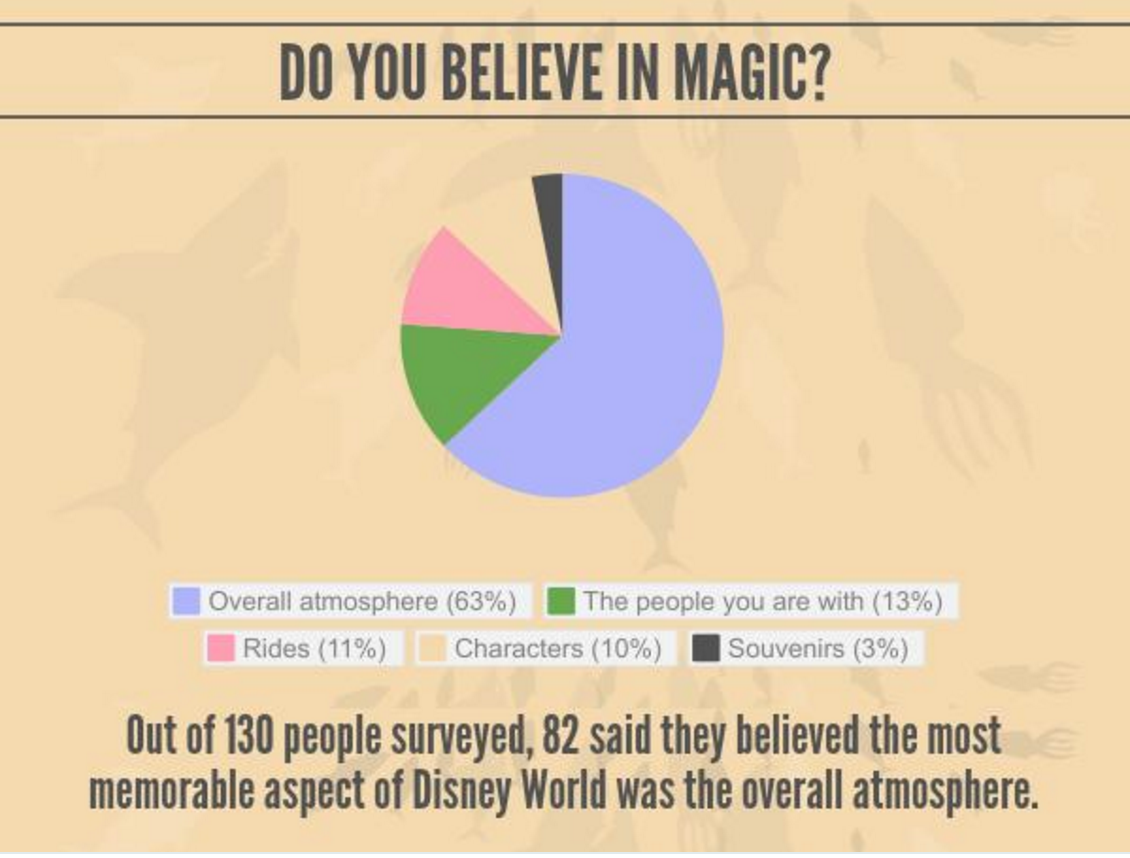 "I love the overall look and atmosphere of the park. How many places can you go where there's a giant castle just sitting there? Even if it's not Magic Kingdom, all the other parks have something to offer. The workers are also very dedicated to the customers and they want to make sure your experience is as good as it can be," Eastwood said.
While Disney is known for its rides, it has a wide variety of components that give attendees the opportunity to experience an exciting day in the "Happiest place on Earth."
"I was like a little kid. Every little thing I'd look at it and go 'Oh my God, I'm so in love.' It's hard to be sad when you're at Disney. Your feet can be hurting but you'll still want to explore more, that's why I love going there and being a part of it all," Kameron Phillips from Atlee High School said.